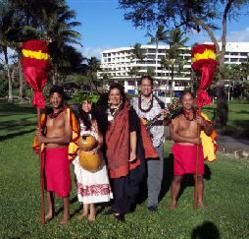 Honolulu, HI (PRWEB) June 13, 2013
Maui'd Forever, Hawaii's premiere wedding planning and coordination company is dedicated to being an effective and cost effective way to provide for one's entire Hawaii wedding, reception needs. They have partnered up with Tom Barefoot's Tours providing an activity agent that gives experienced advice and discounts on most of Hawaii's activities.
They have just released a new YouTube video that shows an experience most anyone that travels to Hawaii needs to experience, a luau. The activity in the video is one of the oldest and most respected on the Island of Oahu, Germaine's luau.
Theirs is one of the longest standing of all luaus on Oahu.. This luau has been a tradition of sorts for decades and generations of visitors have enjoyed the food, cocktails, entertainment and overall fun that happens there. The luau itself is located on an isolated private area along a white sand beach in West Oahu. Although one can drive there on their own, it is usually better to just take the complementary bus trip they provide from Waikiki so one does not have to worry about finding it and secondly so one won't have to drive back after having a few cocktails at the luau. Besides the fun actually starts when one boards the bus and the luau guide stands up in the front and addresses the various topics of interest surrounding the luau and adds a colorful narration involving Hawaiian culture in general. The overall feeling of the luau itself is that of a big party where you get to meet a lot of people and have a good time. That's why it's a tradition on the island.
Germaine"s Luau is a traditional backyard-style luau, 27 miles from Waikiki on a private beachfront location on the shores of West Oahu. Those 30 Hawaiian minutes seem to pass quickly as one is entertained with songs, laughter and lots of Aloha Spirit while riding in a comfortable, air-conditioned motor coach. Upon arrival, each guest is welcomed with a Hawaiian Shell Lei and photographs are taken. At the sound of the conch shell, the luau has begun. One can experience the traditional Imu Ceremony and the procession of the Royal Court. One can feel the rhythm of a musical tour of the South Pacific. They can enjoy the breath-taking fire knife dance and the talented performers of the Polynesian Revue.
This is another in a series of informative videos that is being made available to the wedding and vow renewal clients of Maui'd Forever. Maui'd Forever owner Mark Steffan tells us "that my knowledge of the Hawaiian Islands can be a great guide to clients seeking advice on what they should do while on Oahu. I just need to know who they are what they like to do and of course what they are capable of doing". This and other luau's are a popular way to have an easy wedding reception for after their ceremony.
With these ongoing video productions, Hawaii activity clients can accurately preview what they are getting involved with. Getting to Hawaii is usually a long plane ride and a costly vacation and many prefer not to waste valuable time and money doing an activity that is just not right for them. These previews help prevent these types of mistakes. Maui'd Forever clients also get an experienced activity agent to assist them in the process of determining how they want to spend their time and money.
These agents have experienced many of the activities personally. Maui'd Forever suggests to their wedding and vow renewal clients that they preview the activities they think they might enjoy with links to YouTube videos or the profiles with pictures on their website.
This expert advice is one of the reasons why Maui'd Forever selected Barefoot. Most of the activities they provide are done so at a discount. So with the ability to reserve most any activity on any island at a discount with expert advice was what swayed Maui'd Forever to work exclusively with Barefoot. The clients are given a discount code (#1659) which they use when they speak to their agent. The discounts are already calculated into online sales for those that want to self book on the website.
Maui'd Forever provides the link and code for those that use any of their wedding or vow renewal packages. They can do these packages on Oahu, Maui, Kauai and the Big Island of Hawaii.