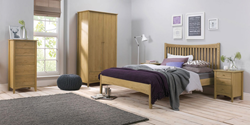 We are so confident in the quality of the furniture that you get from us we offer a no quibble 7 day money back guarantee
London, UK (PRWEB) October 24, 2014
The Furniture Fayre, a UK-based company that is devoted to offering their customers top-quality oak bedroom furniture including a double oak wardrobe and much more, is proud to announce that they have just launched a new and more user-friendly website.
In addition to displaying their lovely selection of furniture, including an oak dining table, a tall oak chest of drawers, and oak bookcases that are ideal for a home office, the friendly and efficient team at The Furniture Fayre is now able to process their customers' orders more efficiently.
And because the founders of The Furniture Fayre understand that it can be hard to wait for a new oak console table, oak sideboard or oak dining chairs for the kitchen table; they have also announced that they are now offering free white glove delivery.
"When you order through The Furniture Fayre, you will say goodbye to irritating sales staff, expensive high street showrooms and over the top TV adverts which in turn means lower prices for you including free delivery on all orders," a company spokesperson noted.
"We are so confident in the quality of the furniture that you get from us we offer a no quibble 7 day money back guarantee."
Ordering from The Furniture Fayre website is easy; the site features handy category tabs at the top of the homepage that will help customers find the type of furniture they are looking for. From oak coffee tables and oak TV stands to an oak table that would look great in any dining room, customers are sure to find what they are looking for.
And, for those who are unsure what type of furniture will work best in their home—for example, if they should select an oak TV cabinet or an oak corner TV unit for their living room—The Furniture Fayre's professional customer service representatives are ready and willing to answer any questions via phone or email.
About The Furniture Fayre:
The Furniture Fayre in the UK is the place to find hand crafted furniture at great prices. When customers choose The Furniture Fayre, they get: an excellent range of high-quality furniture for any room in their house; safe and secure online ordering, and honest and professional customer support either over the phone or via email. And finally, why wait 6 to 8 weeks for furniture when The Furniture Fayre will deliver to the door within 7 – 10 days…at no cost with any purchase. For more information, please visit http://thefurniturefayre.co.uk/