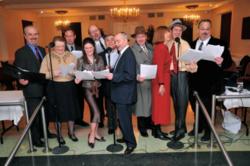 The shows are very popular with senior residents and people from the community. Some bring their children or grandchildren to demonstrate what "pre-TV" entertainment was like.
Oak Park, IL (PRWEB) April 14, 2012
Those Thrilling Days of Yesteryear, an all volunteer radio reenactment group, will present a double feature dedicated to science fiction. They will perform the radio versions of "The Liar" and "Mars is Heaven" at 2 p.m. Sunday, April 15, at the Oak Park Arms retirement community, 408 S. Oak Park Ave.
In the Issac Asimov story, "The Liar," a robot develops ESP and reads the minds of its creators. In old time radio shows about science fiction, there are often intelligent beings that can surpass man's abilities both physical and mental. Asimov wrote over 500 science fiction and non-fiction books, and he is best known for writing about robots.
First broadcast in 1950, "Mars is Heaven" was originally written by Ray Bradbury as a short story in book form. The story takes place in 1960, and the first spaceship from Earth is landing on Mars. The members of the crew are shocked to discover a small town similar to those they left on Earth.
Crew members soon discover old friends and deceased relatives in the town. Those who had been ordered to stay behind and guard the rocket abandon their posts in order to join the reunions and festivities. Members of the crew split up to spend the night in the homes of their lost comrades and relatives.
The ship's captain, John Black, remains skeptical and realizes in the middle of the night that the entire situation may have been contrived by aliens to lower the Earthmen's guards. Before he can warn the others or reestablish a guard on the spaceship, he is proved right.
The Performers
Those Thrilling Days of Yesteryear is composed of Chicagoland actors who share a common interest - to perform old time radio programs for the community. Each actor and technician donates talent and time for free.
The radio shows are very popular with residents and people from the community. Some bring their children and/or grandchildren to show what entertainment was like before television.
Group founders, Ben Dooley and Pam Turlow, husband and wife, established a connection with The Oak Park Arms in September of 2002, when Turlow's father became a resident. They've been volunteering/performing at The Arms ever since.
To celebrate 10 years of performances at the Oak Park Arms, Dooley and Turlow, decided to present a show every month (instead of every other month) and tie in a charity with each performance. Audience members can give free will donation at the time of the show.
The Oak Park Arms is a rental retirement community which provides independent and assisted living apartments and a full schedule of activities and services. Furnished apartments are also available for a short-term stay - a weekend, a week, a month or longer.
The radio show is free and open to the public. For more information, call Jill Wagner at 708-386-4040 of visit http://www.oakparkarms.com.