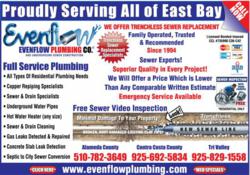 It's not as simple as clearing the drain, sewage clean-up is required. Preventative maintenance is always the best way to avoid this type of problem.
Oakland, CA (PRWEB) June 17, 2013
Oakland drain cleaning contractors at Evenflow Plumbing were alarmed when they heard about the sewer back-up that occurred at the Coliseum on June 16, 2013. "As experienced Oakland sewer contractors we understand the type of damage that is associated with a spill of this size. It's not as simple as clearing the drain; sewage clean-up is required. Preventative maintenance is always the best way to avoid this type of problem," says Gary Dimodana, Owner of Evenflow Plumbing.
According to a report from ESPN there was widespread sewer flooding in multiple parts of the building. Possible causes could be the age of the plumbing system and the fact that it sits below sea level. "In extreme situations like the Oakland Coliseum it's possible that the cost of upgrading the sewer system could be very expensive. Luckily most homeowners are dealing manageable situations. The A's were playing a lot games a home successively and it was too much for the system," says Gary.
In order to help home owners maintain their sewer system as efficiently as possible Evenflow Plumbing is now offering 15% off Oakland drain cleaning. In addition the new coupon includes a video camera inspection of the sewer line for no additional cost. "The best way to determine the condition of the drain system is to actually look into the pipe with video camera. We place a camera at the end of a snake and run it down the line. At that time we can go foot by foot through the pipe checking for cracks and roots," says Gary. The new 15% off coupon is applicable to drain cleaning and hydro-jetting and includes a video camera inspection of the main sewer line for additional cost.
Evenflow Plumbing is a full service Oakland plumber. They handle all types of plumbing service and repair ranging from clogs and leaks to tankless water heater installation or complete whole house re-piping. "We have been in business for 18 years and there is no job we can't handle. Recently we won a large bid with a local municipality that we are very proud of. That means that our company is trusted in the community and that is my goal," says Gary.
Oakland sewer repair, trenchless sewer replacement and sewer testing is where Evenflow Plumbing dedicates most of its resources. "With the sewer lateral ordinance in place it is now mandatory for people purchasing homes to have the sewer line tested for leaks. Because of this we have been increasingly busy helping people fix sewer problems," says Gary. A quick search for sewer repair in Oakland on Google reveals that Evenflow Plumbing has many positive online reviews from trusted consumer review sites like Yelp.
To learn more about Evenflow Plumbing or Oakland sewer repair or drain cleaning please visit their website or give them a call. People are also invited to read their many positive online reviews, read their informative press releases or see their many online videos on YouTube.