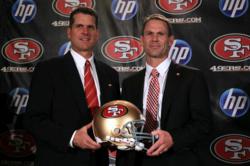 TicketHunterOnline has responded to the team's improvements by reducing all 49ers and Oakland Raiders tickets are now 30% off with promo "WICKED" at TicketHunterOnline.com...
San Francisco, CA (PRWEB) November 02, 2011
The San Francisco 49ers have had a spectacular season thus far, living up to the expectations of Bay Area fans. All 49ers tickets along with Oakland Raiders tickets have received a huge 30% reduction at TicketHunterOnline.com for the remainder of the season 30% with promo "WICKED", reports TicketHunterOnline.
The San Francisco 49ers are currenting commanding a 4 game lead in the NFC West. Considering the 49ers finished last years seasonin with a record of 6 and 10, this season has surprised most. They have accomplished much thus far, and fans have high hopes moving forward.
Although the roster this years roster has the same roster as 2010, the change in coaching has seemed to prove all the difference. Jim Harbaugh has definitely prepared the team week in and week out, as the players seem to have a ton of confidence and belief this year.
Here is a quick breakdown on this year's roster:
Jim Harbaugh chose to sign on Alex Smith as the head of of the 49er offense, which came as a surprise to most.
Frank Gore came back after his hip injury from last season this year, starting off very slowly, rushing for only 148 yards in his first three games.
49ers Left Tackle Joe Staley's game has seen improvement, as he has protected Alex Smith's blind side relatively well.
Mike Iupati has emerged as the top lineman on the 49ers. The 49ers offensive line seemed to have struggled when Adam Snyder took over at right guard for Chilo Rachal. As soon as Snyder stepped in for the disappointing Rachal, the 49ers line started to gel.
TicketHunterOnline has responded to the team's improvements by reducing all San Francisco 49ers tickets and Oakland Raiders tickets by 30% with promo "WICKED" at http://www.TicketHunterOnline.com.
###