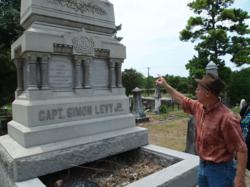 Shreveport-Bossier, Louisiana (PRWEB) June 20, 2013
Northwest Louisiana's most important historical landmark and Shreveport's oldest cemetery, Oakland Cemetery, is undergoing restoration efforts that will begin on June 24, 2013 with an anticipated completion in October 2013. These efforts are part of an ongoing preservation of the region's oldest garden cemetery, home to Shreveport's history and commemorating its founders laid to rest in the Oakland Cemetery.
Originally called City Cemetery, Oakland Cemetery was established on March 30, 1847, when 10 acres located two blocks west of Common Street, on what was then the very edge of Shreveport, were acquired from Mary Bennett Cane and her father, Dr. Samuel Bennett. It was renamed Oakland Cemetery in 1905, and is now the city's oldest and arguably most important landmark, as it is the final resting place of sixteen of Shreveport's mayors as well as officials from every level of government from the antebellum period, the Confederacy, Reconstruction, and afterward. In addition the cemetery is the final resting place of more than 300 Civil War Veterans, 800 victims of the 1873 Yellow Fever Epidemic and of thousands of ordinary citizens, white and black, Christian and Jew, free and slave, native and foreign born. Shreveport is their legacy and from their last resting place can be seen the skyline of its modern central business district -- there they lie, right in the midst of it.
Oakland Cemetery has played an integral role in previous historical and haunted group tours. Tour Guide Steve Smith takes visitors on a 90-minute tour of Oakland Cemetery, where they learn about the lives of Shreveport's residents and the history of the city. Tours take place every Saturday at 1:00 p.m. through October 26.
Renovations to the cemetery include:
1. A new main road through the center of the cemetery creating safer access that will protect the historical sites and landscaping.
2. Paved walkways over the original streets, which are now overgrown with grass, inviting guests of the cemetery to stroll along and enjoy the beauty around them while engaging in the rich history.
3. Shoring up the fallen wall on Christian Street with cement blocks and iron fence matching the original one preserving the historical look.
4. An upgraded security fence completely around the cemetery creating a safer and more secure environment.
5. Installation of a water system for current and future landscaping.
6. Pruning/removing damaged trees; as well as, planting new ones.
7. Creating a handicapped parking area.
The Mission of the Oakland Cemetery Preservation Society is to restore and preserve Oakland Cemetery, assuring its importance as a historic asset. Through restoration and preservation, OCPS envisions Oakland Cemetery as a park that commemorates the dead, fosters community involvement, and serves as a teaching laboratory for future generations. For more information on upcoming events and historical restoration of the Oakland Cemetery go to http://www.oaklandcemeteryla.org.
For more information about the Oakland Cemetery renovations and availability for your upcoming group tour, contact Erica Howard, tourism sales manager for the Shreveport-Bossier Convention and Tourist Bureau, at ehoward(at)sbctb(dot)org or 800-551-8682 ext. 104. For media inquiries and high resolution images contact Deann Jewell, communications coordinator, at djewell(at)sbctb(dot)org or (318) 429-0645.