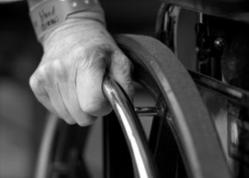 installing a stairlift is probably the quickest part of purchasing one.
Leicester (PRWEB UK) 30 November 2012
Oakland Stairlifts, a UK based stairlift supplier today announced their next day installation service for customers purchasing straight stairlifts.
Stairlifts are assistive technology used by those unable to ascend or descend their stairs either at all or without experiencing extreme discomfort. Stairlifts take away the need for people in these situations to climb their stairs, meaning they are able to move around their homes with ease and in comfort as they should be able to.
One issue which affects everyone in need of a stairlift can be the time taken to properly install a stairlift. Stairlift installation is a lengthy process beginning with customers approaching the company and requesting a quote. All stairlift suppliers must visit a customer's home and perform an assessment which will show them which stairlifts the home can accommodate, and the options available for installation. After making their choice, a customer needs to wait until the stairlift supplier has an available engineer to install it, a process potentially requiring a full day.
Oakland Stairlifts has today announced their next day installation service for their straight stairlift products. A Customer Service Representative for Oakland Stairlifts added that "installing a stairlift is probably the quickest part of purchasing one. After the initial assessment, stairlifts are manufactured to fit a staircase, because no stairlift rail will fit more than one staircase. This means when engineers install a stairlift everything should be made to fit, making the job easier. Our next day installation offers customers the chance to have their stairlift installed the day after their assessment, meaning they receive a much quicker service than with other stairlift suppliers."
Quick installation is exactly what the customers want. If a stairlift will take weeks to be manufactured and installed, many customers will look for a new supplier to purchase from, as they probably need it urgently.
Oakland Stairlifts are stairlift suppliers based in the UK. With their next day installation service, customers can ensure they will have their straight stairlift as soon as possible. Oakland Stairlifts aim to meet the needs of all of their customers, and organise their engineers effectively to install every one of their stairlifts in good time.