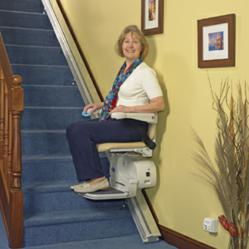 Handicare are well-known for the values they uphold with their products.
Leicester, UK (PRWEB UK) 7 November 2012
Oakland Stairlifts a stairlift supplier based in Leicester, UK, today announced the benefits of the stairlifts manufactured by Handicare, one of the manufacturers that provide products to Oakland Stairlifts.
Handicare is a company that has grown to offer many different forms of assistive technology. Most stairlift manufacturers will only produce stairlifts, however Handicare produce a wide range of goods, including patient transfer systems for hospitals, wheelchairs, and manual or power wheelchairs.
As a supplier of stairlifts Oakland Stairlifts only supply the ranges of stairlift that Handicare produce. These include straight and curved stairlifts, both of which are perfect for people to have in their home, depending on what type of stairlift they require.
Handicare's products are known for being reliable, a Customer Service Assistant from Oakland Stairlifts commented, "Handicare are well-known for the values they uphold with their products. Their core values are all evident in their range of stairlifts; integrity, commitment, respect, passion, and always open to change. These are the points that make Handicare stairlifts one of the best stairlift ranges on the market."
Handicare consider the safety of those that use their products the highest priority of all. This means that they undertake a lot of work that checks the safety of their products prior to them being sent to customers for use.
Oakland Stairlifts have their own 22 point check system that all reconditioned stairlifts they supply need to pass prior to being sold to customers. When it comes to Handicare stairlifts, the company have an easy job when checking for any faults or general wear and tear, because the stairlifts are usually in great condition even when used.
Oakland Stairlifts is a UK stairlift supplier. They have a wide range of products that includes new and reconditioned stairlifts in order to provide to any budget. Handicare is just one of the brands of stairlift that the company offers, however they are classed as their premium models due to the companies' values and product quality.