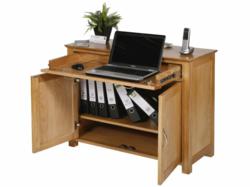 This is a complete home office in a unit measuring less that a meter squared.
Hereford, Herefordshire (PRWEB UK) 29 April 2013
Oak furniture retailer OAKEA has today announced record sales of its original Utah Oak Cupboard Desk. The flexible oak cupboard, which transforms into an oak laptop desk, was the big seller of OAKEA's 2013 April sale, and continues to grow in popularity.
"The flexibility of this oak unit is the perfect solution for your home, if you don't have room for a large desk this is a complete home office in a unit measuring less that a meter squared." comments OAKEA's Henrik Pontoppidan. The unit has a laptop drawer with a flip down front for easy working, and a large cupboard space with an adjustable shelf. The cupboard space is designed for items as large as Lever Arch files, and if needed the shelf can be removed for extra storage height. Henrik continues, "The unique feature of this oak unit is that when it's not in use, the shelf folds away and the desk transforms into a stunning oak cupboard for your home." The unit is suitable for any room, including a living room, bedroom or even a hallway, and is sized for tight spaces.
The cupboard also offers additional multi-functional features. The top will hold a monitor and there is a hole in the back for wiring. The flip down front on the shelf is also perfect storage for a DVD player, meaning the unit can be used as an oak TV stand.
The desk is part of the Utah oak furniture collection, a range of neutral oak furniture for the bedroom, dining and lounge. The range emphasises flexibility and multi-functional furniture and the cupboard desk was recently joined by a Utah oak sideboard desk with a double filing drawer.
The other success stories from the April 2013 sale include a Rustic style Malvern Oak Corner TV Unit, a narrow unit with a substantial chunky look; the Stratford oak dining chair, a stylish dining chair with a vertical slatted back; and the Utah large oak sideboard.
The Utah Oak Cupboard desk, as well as all items from the Utah oak furniture collection are available online from the company's website, or from the Hereford warehouse.