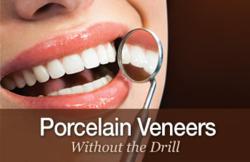 "Oak Park Dental's Complimentary Consultation can quickly determine a patient's candidacy for this exciting alternative to traditional veneers."
- Dr. Jana Gyurina
Madison, WI (PRWEB) August 17, 2012
Oak Park Dental's Dr. Jana Gyurina has exciting news for the Madison area. In her continuing commitment to stay at the forefront of cosmetic dentistry, Dr. Gyurina recently attended specialized training on "prepless veneers" in Nashville. The well-known Madison cosmetic dentist is now part of an elite group of dentists certified in the use of prepless veneers, a revolutionary technology that offers tremendous cosmetic dentistry opportunities.
The excitement over prepless veneers stems from the fact that their use doesn't demand any alteration of the structure of the existing teeth. The benefit this new technology offers to Madison cosmetic dentistry patients is tremendous, because traditional veneers require drilling the patient's teeth down to a fraction of their original size. This process is time-consuming and has the potential of creating some patient discomfort.
With prepless veneers, now available at Oak Park Dental in Madison, there is no need to drill – which means much of the discomfort associated with traditional veneers can be avoided. Teeth only need to be clean and free of decay before prepless veneers are applied.
This straightforward application is available to certified cosmetic dentists, such as Dr. Gyurina, due to the recent development of an ultra-thin porcelain designed specifically for cosmetic dentistry by a dental lab technician. This dramatic discovery was introduced into cosmetic dentistry use by noted dentist, Dr. Dennis Wells of Nashville, who pioneered the development of the prepless veneer process.
Dr. Gyurina is delighted that her advanced training in Prepless Veneers allows her to offer this new cosmetic dentistry option to her Madison area patients.
"I believe this is a tremendous cosmetic dentistry opportunity for patients who desired to improve their smile, but were reluctant to undertake traditional veneers. Prepless veneers can be the perfect answer for the right candidate."
Dr. Gyurina notes that each prepless veneer is custom-designed to match the contours and colors of existing teeth to produce a naturally beautiful smile. Additionally, Dr Jana explains that: "A good candidate for prepless veneers is often patients with worn or small teeth as well as chipped, discolored or gapped teeth. Oak Park Dental's Complimentary Consultation can quickly determine a patient's candidacy for this exciting alternative to traditional veneers."
Dr. Jana Gyurina and Oak Park Dental have opened a new door to beautiful smiles by offering the remarkably progressive cosmetic dentistry option of prepless veneers to Madison area cosmetic dentistry patients. This just may be the dream smile opportunity you've been waiting for. Contact Oak Park Dental at 608-478-0422 or visit http://www.oakparkdentalmadison.com today to schedule your Complimentary Consultation.