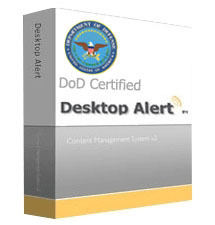 Washington, DC (PRWEB) March 6, 2009
Desktop Alert, a worldwide leader in Command and Control Mass Notification Systems is now a Sponsor-Level Member with OASIS Emergency Interoperability. Members accelerate the development, adoption, application, and implementation of emergency interoperability and communications standards and related work.
The Organization for the Advancement of Structured Information Standards (OASIS) is a global consortium that drives the development, convergence and adoption of e-business and web service standards. Members of the consortium decide how and what work is undertaken through an open, democratic process. Desktop Alert offers mass notification interoperability to The Common Alerting Protocol (CAP). CAP is an XML-based data format for exchanging public warnings and emergencies between alerting technologies. CAP allows a warning message to be consistently disseminated simultaneously over many warning systems to many applications. CAP increases warning effectiveness and simplifies the task of activating a warning for responsible officials.
The CAP data structure is backward-compatible with existing alert formats including the Specific Area Message Encoding (SAME) used in Weatheradio and the broadcast Emergency Alert System, while adding capabilities including:

Flexible geographic targeting using latitude/longitude "boxes" and other geospatial representations in three dimensions;
Multilingual and multi-audience messaging;
Phased and delayed effective times and expiration's;
Enhanced message update and cancellation features;
Template support for framing complete and effective warning messages;
Digital encryption and signature capability; and,
Facility for digital images, audio and video.
During early 2005 the U.S. Department of Homeland Security (DHS), in partnership with the Association of Public Television Stations, demonstrated CAP-based "digital EAS" broadcasts over public television digital TV transmitters and satellit