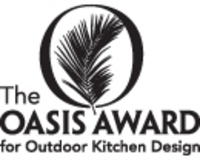 Do something that will make you stand out from the rest.
Chicago, IL (PRWEB) October 14, 2009
A recent lay-off and the welfare of a wife and nine-month-old twins can drive a person to do great things. As recruiters often tell job seekers, "Do something that will make you stand out from the rest." Brian Griffith of Columbus, Ohio did just that by creating the Prima Vista Entertainment Garden to win the third annual Oasis Award for Outdoor Kitchen Design.
Griffth's outdoor kitchen concept will be featured in the November/December issue of Garden Design magazine in Kalamazoo Outdoor Gourmet's Hot off the Grill! and Outdoor Kitchen Profits by Design e-newsletters as well as the Web sites of the Oasis Award, http://www.oasisaward.com; Kalamazoo Outdoor Gourmet, http://www.kalamazoogourmet.com; and Garden Design magazine, http://www.gardendesign.com.
Griffith has been in the industry for more than six years and is a member of the American Society of Landscape Architects. He is a graduate of The Ohio State University with a master's degree in Landscape Architecture. His winning design took a small, empty space that connected a house and a garage and transformed it into an outdoor living space that features the cooking grill as the centerpiece of the design, making the host/cook always accessible to the guests; extends the interior feel of the main residence to the outside space and uses terracing to create cooking, conversation, and serving areas.
"As the leader in outdoor kitchen equipment, we are once again excited to support the only nationwide competition that recognizes outstanding outdoor kitchen design." said Pantelis A. "Pete" Georgiadis, president of Kalamazoo Outdoor Gourmet. "This award has grown to become an important industry accolade and a career booster. We know from past winners that they saw increased client traffic and they continued to receive Oasis Award-related client inquiries a full year after winning the award."
"The Griffith outdoor kitchen and dining area is clearly the heart of this home. If you look out on the courtyard from inside, you are compelled to move out," said Sandra Kinbar, editor of Garden Design magazine. "Once outdoors, everything you could want or need for relaxation and entertainment is within reach, so why go back indoors? What's more, the design and material have continuity and are pleasing to the eye."
As the only nationwide contest that recognizes excellence and innovation in the increasingly sophisticated design of outdoor kitchens, the Oasis Award for Outdoor Kitchen Design is open to all design professionals, including architects, landscape architects, interior designers and certified kitchen designers and featured entries from the nation, and Poland (Warsaw).
The panel of judges included Bill Marken, Editor-in-Chief Emeritus of Garden Design magazine; Michael Thomas, interior designer, Fellow of ASID; Jane Humzy, furniture designer; Mary Jo Peterson, kitchen and bath designer, author; Mary Palmer Dargan, landscape architect and author; Sandra Kinbar, editor of Garden Design magazine.
Entry acceptance for the Fourth Annual Oasis Award for Outdoor Kitchen Design contest begins January 1, 2010, information can be found at http://www.OasisAward.com.
The Oasis Award is jointly presented by Kalamazoo Outdoor Gourmet and Garden Design magazine.
ABOUT KALAMAZOO OUTDOOR GOURMET
Kalamazoo Outdoor Gourmet has a rich heritage of bringing gourmet lifestyles outdoors and is the leading manufacturer of premium-quality outdoor kitchen equipment, including revolutionary hybrid grills that cook with charcoal, wood and gas, and the most powerful and energy efficient outdoor refrigeration available. Please visit http://www.KalamazooGourmet.com for more information or call 1.800.868.1699 to speak with an outdoor kitchen design expert.
###