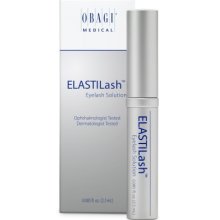 For fuller and thicker eyelashes and beautiful eyes.
Los Angeles, CA (PRWEB) September 16, 2011
Skincare Market Inc. is now selling the latest product Obagi ELASTILash. The Obagi ELASTILash Eyelash Solution is a safe, nonprescription treatment that helps achieve the appearance of thicker, fuller lashes to enhance the eyes. This product may be ideal for patients with lighter eye and skin color. The essential peptides drastically transform thin and short eyelashes without any harsh side effects or irritation. It it proven to show results in as little as six weeks.
For better results, apply 1 generous brushstroke along the entire upper and lower eyelash line every night. It is also tested by dermatologists, opthamologists and allergists, Obagi ElastiLash is a safe product for use for all types of skin and is also safe for use by people who wear contact lenses. This product is non allergenic and there is no evidence of eyelid darkening or change in iris pigmentation.
###