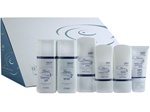 Obagi is the best way to start a new skin and a new life.
(PRWEB) July 30, 2011
Starting a new skin care product is a big deal to actually learn and study about to know if it is the perfect product for your skin. For new costumers it is important to speak to a skin care professional before getting started to determine what type of skin you have. However, costumers who have been using Obagi, it is a great opportunity for a big sale and to buy a product that have been over priced to get the best price in the nation. Obagi Medical Products is the leading provider of therapeutic prescription strength skin care systems. These products were designed to improve skin barriers across the visible skin in premature aging, photo-damage, hyper-pigmentation, acne, sun damage, rosacea, fine lines, and wrinkles. Obagi has a product for each and every different skin problem that are listed above. Also Obagi has treatments to the most sensitive part of the skin which are the eyes. The Obaji ELASTIderm Eye Treatment is a cream that can reduce the fine lines and wrinkles that are surrounding the eyes. This product contains zinc, copper, and bi-mineral that can help build up collagen and elasticity for a firmer skin. It also comes in a gel formula for those who like the cool and fluid texture. Do you ever feel like starting over a new skin? Well that can definitely happen by using the Obaji Blue Peel RADIANCE which can improve the skin's texture and tone within minutes. For those who have photo-damage and hyper-pigmentation and are desperate to get rid of them can use this product in 1 use and will have a tighter, smoother, and brighter skin. Using up to 4 to 6 peels can provide the best result that can go back to having a new skin. Obagi can do miracles to the skin that are in the worst condition and feel like there is no hope for it. People have had many amazing changes done to their skin and also has changed their lives to not being embarrassed of their skin anymore. Obagi is the best way to start a new skin and a new life.
###