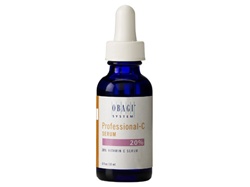 Protect your skin from premature aging!
Los Angeles, CA (PRWEB) October 01, 2011
Skincare Market Inc. is proud to present the all new Obagi Professional-C Serum 20% which contains ascorbic acid and Vitamin C that can be effectively absorbed into the skin. The 20% L-ascorbic acid will protect the skin from being damaged by the harmful UVA rays. It will also help fight off fine lines, wrinkles and collagen synthesis of the skin. This product can be used for any skin types. For the best results, apply once or twice daily to a clean face, neck and chest using fingertips and before any makeup, sunscreen or night cream. Some people may feel a slight tingling sensation.
The Obagi Professional-C Serum 20% protects your skin from premature aging by providing the maximum antioxidant protection it truly needs from harmful sun rays and environmental damaging. This particular formula provides greater consumption of ingredients than other Vitamin C products. The smooth serum also expands collagen, clarifies skin tone, and improves needed moisture and hydration to improve the skin's tone and texture. Obagi's strongest Professional-C Serum provides the strongest brightening effects.
# # #