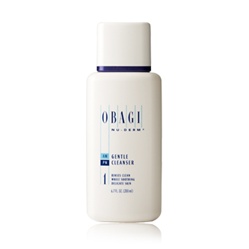 This Obagi Nu-Derm Gentle Cleanser leaves your skin smoother than ever!
Los Angeles, Califonia (PRWEB) September 29, 2011
Skincare Market Inc. has the Obagi Nu-Derm Gentle Cleanser which is a mild gel-based cleanser that gently removes impurities, oil and makeup to leave skin clean and fresh. This product lets the skin feel comfortable and soft. It removes residue, bacteria and toxins without stripping or irritating the skin and calms the skin while other botanicals nourishes and refines skin. While all skin types need thorough cleansing, delicate skin requires extra care and gentleness.
Obagi Gentle Cleanser is specifically formulated to cleanse while soothing. The Obagi Nu- Derm Gentle Cleanser is a critical element in the preparation stage of the Nu-Derm System, or step 1 in the in the Nu-Derm System skin renewal regimen.
Each product in the Nu-Derm System is specifically designed to work in collaboration with one another to provide you with optimal results. When used as a system, the prescription-strength ingredients work to effectively balance the pH level of your skin and to penetrate into the layers of the skin for the best results.
###