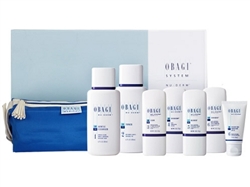 This all in one travel set helps prepare for anytime anywhere!
Los Angeles, California (PRWEB) September 29, 2011
The Obagi Nu-Derm Travel Set contains a Gentle Cleanser, Toner, Clear, Blender, Exfoderm, Healthy Skin Protection SPF 35 sunscreen, Travel Bag, and an Instruction Booklet. The skin has been exposed to a number of environmental stresses which may cause damage. Photo damage is caused by the suns' harmful rays which causes the fine lines, wrinkles and age spots on the face.
The Foaming Gel Cleanser is to cleanse the skin. Then, the Toner helps restore ph balance and further cleanse the skin. The Clear is for skin bleaching of age spots and sun damage. Then, the Exfoderm Forte removes dead skin cells. The Blender is to help blend skin pigmentation. Finally, the Healthy Skin Protection SPF 35 sunscreen is to protect the skin from any further skin damage and to help the skin from getting more sensitive to the sun.
The Obagi Nu-Derm System is the prescription strength skincare system that transforms the skin at the cellular level resulting in younger and healthier looking skin. During the four distinct phases of skin travel, daily use of the ingredients in the system will restore cellular turnover.
###