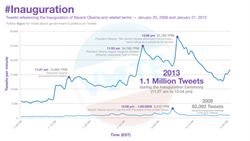 Social networks are real indicators of popularity, and can help predict future trends
Orange County, California (PRWEB) January 22, 2013
With all the news coverage about the inauguration, comes a loud and busy buzzing in social media networks. Orange County SEO compiled data analysis around the social media events, and summarizes. Twitter, Facebook, Flickr, YouTube and multiple blogging sites were just some of the outlets Americans utilized today to express comments, likes and dislikes about the inauguration.
Twitter reported that during the approximate hour duration of the 57th inaugural Address there were 1.1 million tweets posted to twitter discussing Barack Obama's speech. Over the course of 60 minutes the incoming tweets rose from 14,062 to the recorded 1.1 million.
According to the Wallstreet Journal on Storify a brief timeline of the speech is as follows:
11:21 President Obama announced and seated.
14,062 (tweets per minute)
11:53 President Obama begins inaugural address following ceremonial oath of office.
24, 760 (tweets per minute)
12:06 President Obama states: "We cannot mistake absolutism for principle... name calling as a substitute for debate."
27,795 (tweets per minute)
Trending topics covered every angle of the day in Washington. From various quotes, made by President Obama throughout his speech to what the first lady was wearing, tweeters everywhere posted their opinions about the day's events. Among these topics was a popular discussion about young Sasha Obama, who was featured on camera yawning as her father Barack gave his speech. The image and video of her yawning has gone viral over the course of the day, and is being passionately discussed on all media outlets.
Opinions range from her being disrespectful and having poor etiquette to people sympathetically saying to leave the poor eleven year old alone.
For More Information On Web Design, Affordable SEO Packages, and Guaranteed SEO Services.
Orange County SEO
16400 Pacific Coast Highway. Suite 218
Huntington Beach, Ca 92649
(949) 494-0007