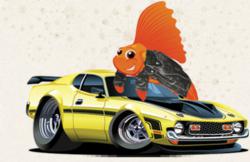 I can't tell you why the system is so backwards in the first place, but it seems like we're getting closer to correcting it.
Boca Raton, FL (PRWEB) April 11, 2012
RoadFish.com men's lifestyle and finance magazine today issued a thank-you to Warren Buffett and to the other billionaire taxpayers who are in support of the Buffett Rule, a motion to raise the wealthiest Americans' taxes up to 30%.
Clare O'Connor of Forbes reported that President Obama pitched the Buffett Rule at Florida Atlantic University in Boca Raton this afternoon, where he is currently fundraising for his campaign. The Buffett Rule is a proposal that would require the wealthiest taxpayers in the US to pay at least 30% of their income in taxes. It is named after America's second-richest man, Warren Buffett, who does not agree with the fact that he and his fellow billion and millionaires are currently paying a much lower tax rate than our nation's typical middle-class family. Obama is quoted as saying in his speech today, "Right now, the share of our national income flowing to the top 1% has climbed to levels last seen in the 1920s. And yet those same people are also paying taxes at one of the lowest rates in 50 years. You might have heard this, but Warren Buffett is paying a lower tax rate than his secretary."
There is a page on President Barack Obama's website explaining the Buffett Rule, what it can do, and who is supporting it. The detailed description of the bill states, "Billionaire Warren Buffett and many wealthy Americans pay a lower tax rate than middle-class families do. That's just not fair. Warren Buffett knows it and President Obama wants to fix it. The Buffett Rule would require everyone to pay their fair share—a key step to reduce the deficit and invest in what we need to grow and strengthen the economy." The site points out that the 400 richest taxpayers (who all made more than $110 million) on average paid an income tax rate of 18% in 2008. Additionally, over 20,000 households with over $1 million in income on average paid less than 15% in 2009.
RoadFish.com's Senior staff writer is quoted as saying, "I think it's amazing that there are actually people such as Warren Buffett and Bill Gates who are stepping up to level the playing field. I certainly think that the US economy could use a bit of extra help right now, and it's amazing to see people who can actually afford it offering to supply it. There are definitely mixed reactions, but overall it's encouraging. I can't tell you why the system is so backwards in the first place, but it seems like we're getting closer to correcting it."
According to the BBC, in January Bill Gates was quoted saying that he didn't think he paid enough tax, stating that taxing the rich is "just justice." He said he believed wealthy Americans who are able to should contribute more, as a way to resolve the financial deficit in the US currently.
On Obama's website, it states that passing the Buffett Rule would result in gaining up to $32 million in tax revenue from just one millionaire taxpayer. On the site, President Obama is quoted as stating, ""When millionaires get tax breaks they don't need and the country can't afford, it either adds to the deficit or somebody else has to make up the difference—like a senior citizen on a fixed income; or a student trying to get through school; or a family trying to make ends meet. That's not right. I believe this is the best way to pay for the investments we need to grow our economy and strengthen the middle class."
RoadFish.com's Senior staff writer is quoted as saying, "I can't see any downside to the bill being passed besides the fact that I'm sure a handful of millionaires and billionaires would not take too kindly to it. But to that I say, you can't take it with you. Right? And it's not like that extra 10-15% will bankrupt any one of them, or kill their credit report score. Somehow I think they would survive. Hats off to guys like Buffett and Gates, especially Buffett, for really running with this idea."
81-year-old Warren Buffett was named the richest man in the world in 2008, but after donating billions of dollars to charity has fallen behind. He is the primary shareholder and CEO of Berkshire Hathaway, the company through which he has made millions. Berkshire Hathaway began selling class A shares in the 1990's, and the market closed off at $7,175 per share. Buffett entered billionaire status around the same time. He is also a philanthropist and brilliant investor, widely regarded as one of the most successful investors in the world.
About RoadFish
RoadFish.com is an online men's lifestyle and finance magazine targeted toward men in their 30's and 40's that have already attained a moderate level of success in life, and are striving toward more. It goes over current events of interest to this group, such things as exciting adventures, making money, consumer interests, hot chicks, and the latest in social media news as well as ways to make more and save more money. It is a publication owned by Purpose Inc.