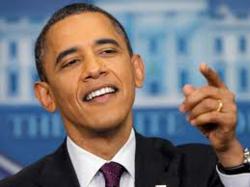 Obama has taken the pre-election lead in the battleground states.
Washington, D.C. (PRWEB) September 21, 2012
Obama has reportedly taken the pre-election lead in the battleground states of Michigan, Ohio and Virginia due to this new Mitt Romney flub reported by Fox News on Tuesday September 18th. The iTrustNews.com was one of the first websites to report this new flub of Romney and is tracking the candidates this fall during the 2012 election for President of the United States. Real time updates and news are available that track both Obama and Romney online.
A portion of registered voters in Ohio were polled yesterday. The poll, published by Fox News and printed in the Washington Times blog on Thursday September 20th, revealed that President Obama now has an expanding 7-point lead over Republican challenger, Mitt Romney. These numbers are higher than the August 2012 poll that had the Ohio race at 49-47, with a 2 percent error margin, in Romney's favor. The newest flub by Mitt Romney is one of many that has happened to him in the last 90 days while working the battleground states electoral map.
Obama supporters in key states have quickly pounced on the recent missteps undertaken by former governor Romney. Rumors of internal struggle and shakeups in the Republican Party have helped to fuel the speculation of the 2012 election outcome. This information combined with the reported $20 million dollar loan that the Romney campaign has borrowed to help them get through the convention months is putting more pressure on undecided voters to make a decision.
Early voting in battleground states begins as early as October 2nd. Only 30 U.S. states are now granted early voting rights unless members of the military elect to vote early.
The Mitt Romney comments that were reported by Fox News in a September 19th piece have sparked new commotion in the political world. Romney's co-chair, Tim Pawlenty, has resigned from his position and this has left a gap that could be hard to fill before the November 6th elections.
The original Fox News article from September 18th that first reported the recent comments by Mitt Romney that have angered many in the political world can be found by visiting this link http://itrustnews.com/2012-election.
About iTrustNews.com
As one of the leaders in election news coverage, iTrustNews.com reports factual information about Republican and Democrat candidates immediately as news happens. With a staff of intelligent reporters and unbiased writers, the iTrustNews.com website is quickly turning heads in the online world as a legitimate source for late breaking election news coverage online. A staff of reporters is assigned to cover all the 2012 candidate news as well as elections that are scheduled to take place through 2014.