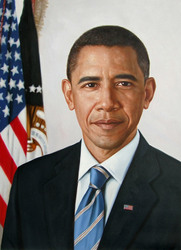 There are so many items on the market today to commemorate President Barack Obama
Omaha, NE (PRWEB) January 29, 2009
Portrait Painting, a company that specializes in turning a photo into a painting, has introduced a new service. Through Barack Obama Oil Painting, the company is offering the official presidential photo of Barack Obama as an oil painting. This is a 100% hand painted portrait of the 44th President of the United States. The release of this Obama oil painting is a true keepsake, available for a limited time, and only by special order.
"There are so many items on the market today to commemorate President Barack Obama," said Ryan Renner, the founder of BarackObamaOilPainting.com. "Some of the items are beautiful while others are cheesy. We think an oil painting is a simple and classic way to commemorate this historic election, and the President of the United States."
The President Obama art is available in eight different sizes with custom sizes available upon request. An 18" x 25" Obama painting starts at only $179 and is available in three to four weeks after ordered. The portrait artists have decades of experience, and they use only the finest materials to complete the painting.
Each Obama oil painting is hand painted; therefore, each is unique. A 100% Money Back Guarantee is offered on every order. For more information on the sizes and options available, visit BarackObamaOilPainting.com. Wholesale discounts are offered on orders of multiple paintings.
About Portrait Painting
Portrait Painting was launched in early 2008 in Omaha, Nebraska and offers hand-painted oil paintings from photographs. The company's artists have over seventy years of combined experience in oil painting, and specialize in oil-based portraits. The lifelike oil paintings are completely handmade by each artist, using no computer-aided tools, transfers, projections, or other artificial methods of creating accurate oil paintings from photographs. Portrait Painting creates human portraits, pet portraits, and even landscape oil paintings from photos.
###