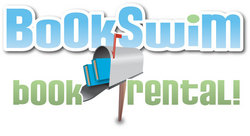 Monroe, NJ (PRWEB) March 4, 2008
As today's primary could be the final stand in the Democratic presidential contest, metrics regarding candidates' popularity are pouring in. Among them, the nation's leader in online book rental, BookSwim.com (often dubbed "Netflix for books"), reports that books written by Sen. Obama are out-renting Sen. Clinton's by a staggering 25:1.
The rental demand for Sen. Obama's 2006 release, "The Audacity of Hope", combined with his earlier, "Dreams from my Father" (1995), make Obama BookSwim's top-renting non-fiction author - even beating out best-selling "Eat, Pray, Love" author, Elizabeth Gilbert.
Sen. Obama's high book-rental volume could mean many different things for the presidential hopeful. Voters may be scrambling to read his works because he is seen as an "unknown entity" to much of America, whereas Sen. Clinton's public (and private) life is undeniably well-recognized by the American people.
Because Sen. Clinton's latest book was published three years prior to Obama's "The Audacity of Hope", BookSwim's research additionally combines Sen. Clinton's two titles, "It Takes a Village" (1996) and "Living History" (2003), with those of husband, former President Bill Clinton, entitled "My Life" (2002) and his recent bestseller, "Giving" (2007). Though a marked shift, Barack Obama's books still lead by a ratio of 11 to 1.
Even when all Clinton titles are combined with Carl Bernstein's recent pro-Clinton, "A Woman in Charge", Obama retains the book lead with a 5 to 1 rental ratio. Though dramatic in contrast, BookSwim's study of Americans' reading preference reflects the recent turnaround in the candidates' polls.
Candidates often hope that book revenue may increase campaign funding, and though BookSwim.com reports purchasing several more copies of Obama's works in recent months, keeping up with demand from online book rental subscribers, neither Sen. Obama nor Sen. Clinton reap profits from repeat rental of their books beyond the initial purchase.
About BookSwim Corporation
BookSwim (http://www.bookswim.com), launched in May, 2007, is America's only nationwide hardcover/ paperback online book rental library club with free shipping both ways, no due dates or late fees. Memberships start at $15/month and allow as many as 11 books borrowed at a time. Members can even buy books they love.
###