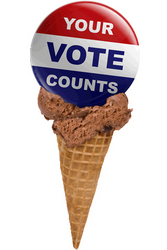 Given the economic climate, this type of encouragement is good for our staff
Savannah, Georgia (PRWEB) January 15, 2009
A presidential campaign is coming to Leopold's Ice Cream. Just as Barack Obama got his start scooping ice cream, this campaign will determine which of Leopold's team members has the best chance of becoming president one day.
The inauguration week campaign -- which kicks off Friday, January 16th at 2PM EST -- reinforces the fact that the American Dream is still a reality.
"Given the economic climate, this type of encouragement is good for our staff," explains Stratton Leopold, owner of Leopold's Ice Cream. "Most of them are college students and they need to know there can be great rewards if they work hard."
Stratton Leopold knows this first hand, having risen from humble beginnings at Leopold's Ice Cream, founded by his father, to become a major Hollywood producer with blockbuster hits including Mission Impossible 3, Sum of All Fears, General's Daughter and Paycheck. Also known in Hollywood as the Ice Cream Producer, Stratton returns to his roots at Leopold's Ice Cream between movies and can often be found behind the counter scooping ice cream.
Mary Leopold, Stratton's wife and business partner, said that the staff has responded to the campaign with great enthusiasm; "You can see the pride they take in that they have something in common with the President Elect."
In addition to creating their own campaign signs, which will be on display in the store, Leopold's team members are taking this campaign into the digital realm, preparing to solicit votes through their Facebook and Twitter friends. To accommodate this innovative campaign strategy, Leopold's Ice Cream has set up it own Facebook group.
Votes for the "Leopold's team member most likely to become President" can be cast in the downtown ice cream shop or through the web site VOTE for who will follow in Barack Obama's Footsteps to become President. Voting is open to all store patrons, including Savannah residents and the many out of town visitors who make Leopold's Ice Cream a destination while visiting Savannah.
The winner of the campaign will be announced Friday, January 30th and will receive a $500 U.S. Savings Bond.
In honor of the campaign Leopold's Ice Cream is getting into the spirit with a "Hail to the Chip" ice cream sundae special, with any three scoops of its five chocolate chip flavors; Chocolate Chip, Chocolate-Chocolate Chip, Mint Chip, Coffee Chip and Mocha Chip.
2009 marks the 90th anniversary of Leopold's Ice Cream in Savannah. All ice cream is home made, using the secret family recipe created by the Leopold brothers when they opened the original store in 1919. In 2004, Stratton and Mary Leopold opened the new, flagship location at 212 East Broughton, in the heart of the city's historic district, next door to the Savannah College of Art & Design's Trustee's Theatre. With the help of Academy Award nominated set designer, Dan Lomino, they recreated the original circa 1935 ice cream parlor, complete with the original soda fountain, but also featuring memorabilia from Stratton's movies. The ice cream shop is a popular destination for movie fans and stars alike. Visit Leopold's Ice Cream for more about our inaugural presidential campaign.
###