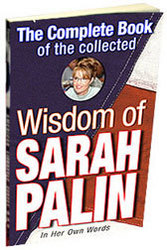 American Lifestyle Survey: A Survey for the Modern Consumer.
Phoenix, AZ (PRWEB) September 12, 2008
The intense debate between Democratic and Republican presidential nominees Senator Barack Obama and Senator John McCain recently broke television viewership records. Almost 40 million Americans watched each acceptance speech, making them the most viewed in political history. A set of recently published blank humor books lampoon the intensity of this season's election dialogue.
With the recent Vice Presidential pick of Alaska Governor Sarah Palin the intense polarization between the two camps continues to intensify. A new project at SarahGiftBook.com called "The Complete Book of the Collected Wisdom of Sarah Palin: In Her Own Words" reflects the political left's criticisms of Mrs. Palin's experience. The book, at 120 pages, is mostly blank. This satirical commentary also exposes the internet and media's feeding frenzy over all the major national candidates. The book's title also pokes fun at the Republican Vice-Presidential nominee's position on tightly controlled media access.
"America is split, right down the middle, and these new books reflect how strongly each side opposes the other," said project co-developer Russell Blackstone. "This is the perfect, light-hearted way to continue the presidential conversation at home and at work, and more importantly, really annoy your friends."
Not to show any favoritism the Democratic version at ObamaGiftBook.com is called "The Compendium of Knowledge of Barack Obama: Most Liberal Senator." The book appears to be genuine -- until you actually try to read it and discover it's blank inside.
Rounding out the political spectrum is "Why John McCain Must Be Our Next President: A Patriotic Roll Call" and "Biden My Time: How Joe Biden Changed Washington in 36 Years." Also, mostly blank.
As a bonus, all of the books contain a 10-page excerpt from another humor book called "American Lifestyle Survey: A Survey for the Modern Consumer." That book is a parody consumer product survey with hundreds of questions and answers about American consumer habits and products. You can participate in the survey online at AmericanLifestyleSurvey.com.
With the election just 2 months away, and America facing a number of obstacles, including a record deficit and higher-than-expected unemployment numbers, the back and forth political debate will continue with both sides thinking they know best and the other side knows -- well -- nothing. Learn more at BlankGiftBook.com.
About Publisher BestTees
BestTees.org is a Phoenix-based on-demand seller of Casual Clothing, Books, and Gifts, including T-Shirts and Magnets.
# # #