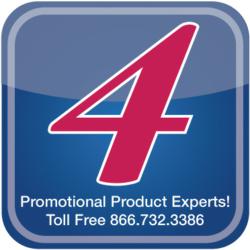 "Time and again, promotional products have proven themselves to be the most cost-effective way to reach a very targeted audience in a tangible, long-lasting memorable manner."
Essex, CT (PRWEB) November 17, 2011
The promotional products business was abuzz last week over news that President Obama has asked several federal agencies to cut spending by twenty percent by scaling back on items such as travel, technology devices, printing and 'extraneous promotional items.' While this budget cut should come as no surprise to many considering the current state of the U.S. economy many promotional products companies are coming out this week to simply remind folks that many promotional products are not only affordable but they are also great ways to advertise and support local businesses and organizations. 4AllPromos, a promotional products company out of Essex, Connecticut, has thousands of affordable promotional items for any budget.
In recent year's radio, television and print advertising prices have sky rocketed. These three powerful mediums have struggled to keep up with the less expensive prices of online advertising including by social media channels including Facebook, Twitter and LinkedIn. While radio, television and print advertising prices have fluctuated dramatically over the past five years the price of promotional products has not changed much throughout the years. "Buying promotional products in bulk can actually save hundreds of dollars," Says 4AllPromos President Cosmo Corigliano, "4AllPromos has thousands of custom imprinted products that are sold for less than a dollar."
In an effort to get creative many businesses and organizations have turned to promotional products to get their message out to customers.Promotional products known to many as SWAG or 'stuff we all get' have proven to be an extremely effective way of marketing both from business to customer and business to business. Many businesses use promotional products to advertise special events or buying incentives. As the holidays approach many businesses are looking to send special promotional gifts such as gourmet gift towers, ornaments, apparel or corporate style gifts to repeat customers. These quality products can be used by customers and clients over and over again.
The uproar over the promotional product budget cuts have caused several big promotional product organizations to contact the White House and federal agencies to educate them on the effectiveness of using promotional products as well as their significant return on investment. Paul Bellantone, President and CEO of the Promotional Products Association International has petitioned the President and said, "While it might be tempting to limit the purchase of promotional products in order to yield some short-term savings, in the long term, this prohibition may unintentionally diminish the good work of Federal agencies. Time and again, promotional products have proven themselves to be the most cost-effective way to reach a very targeted audience in a tangible, long-lasting memorable manner."
4AllPromos has hundreds of products for dozens of businesses. Just because some agencies are choosing to cut or scale back on advertising and promotional budgets doesn't mean everyone has to. Order just a small amount of products to test what the return on the investment just might be. Items such as pens, tote bags, mugs, stick notes and stress balls all start at under a dollar.
To learn more about the value of promotional products visit http://www.4allpromos.com or call a friendly product specialist toll-free at 1-866-732-3386. Promotional or custom imprinted products are great ways to get the word out about businesses, schools, non-profits and special events.
###