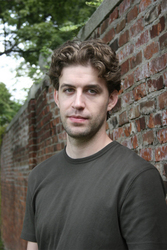 I printed the lyrics, figured out the chord changes and hit record on my laptop.
Albany, NY (PRWEB) February 25, 2008
Singer/Songwriter and producer Michael Campion has recorded a new, studio version of the "Yes We Can Song". Paying homage to the original video, a project lead by two of the music and film industries' stars, rapper Will.i.am and producer Jesse Dylan, Campion has recorded two adaptations and remixes to the Yes We Can Song, which is based on Barack Obama's famous New Hampshire Primary speech. Campion's performances of the "Yes We Can Song" have reached over 30,000 views on YouTube, and his recording of the song is available for free download on his MySpace page. On his latest studio version of the Yes We Can Song, Campion once again has produced the video himself at no cost, and has written a fully arranged version of the song which features him on all instruments, and vocals.
Michael Campion, a classically trained, multi-instrumentalist from Albany, NY was so moved by the song, within an hour of viewing will.i.am's video on YouTube on Saturday, February 2nd, he recorded his own version of the song in his bedroom. As the first cover of the song, it has become immediately popular on YouTube, with over 14,000 hits the first week it was online and one of the top 50 most viewed musician videos that week. The cover of the song was recorded live, with no edits and within one hour of seeing the original video. "I printed the lyrics, figured out the chord changes and hit record on my laptop." Campion comments about his improvised performance. "This is a true folk song in every sense".
Taking that concept a step further, Campion created a fully arranged and produced version of the song using Apple's Logic Studio music creation program. Campion played guitar, keyboards, percussion, bass and sang on the recording. Using Apple's iPhoto, Campion used still images from Barack Obama's flickr site to create an inspirational video, which was later converted in Apple's iMovie for YouTube, MySpace, Facebook, Vimeo, Imeem, Gather, Bebo, MTV Think and other video and social networks.
While not officially affiliated with the Will.i.am and Jesse Dylan project, or the Barack Obama campaign, Michael Campion is unofficially lending his talents to the support of both ventures.
At the request of many YouTube viewers, Campion has also published the Guitar TAB for his version of the Yes We Can Song, which varies slightly from original. Campion adapted and added some of the chords heard in his versions of the song.
"The Internet and inexpensive or free creative technologies such as blogs and video distribution give musicians, artists and everyday people the ability to ability to transmit their ideas to a worldwide audience immediately. This is an exciting time," Campion comments.
Celebrities featured in the will.i.am and Jesse Dylan video include: Common, Esthero, Herbie Hancock, John Legend, Kareem Abdul Jabbar, Kate Walsh, Nick Cannon, Nicole Scherzinger, Scarlett Johannson, Tatyana Ali, Tracee Ellis Ross, will.i.am.
To view Michael Campion's New Studio Version of the "Yes We Can Song" click here:
http://www.youtube.com/watch?v=Y8LGFNX9M4g
To download the free MP3 click here:
http://www.myspace.com/michaelcampionmusic
To view Michael Campion's original cover of the "Yes We Can Song" click here:
http://www.youtube.com/watch?v=1R-clcNkm3M
To view the will.i.am version of the "Yes We Can Song" click here:
http://www.dipdive.com/
More about Michael Campion may be found at
http://www.michaelcampion.com
###