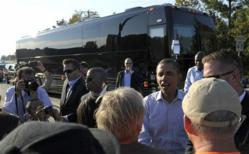 "It is a much easier job to win a crowd of independent Americans over with heaping plates of bipartisan barbecue that packs a monumental flavor than with talk of the economy, jobs and healthcare." ~Heath Hall, President of Pork Barrel BBQ
Washington, D.C. (PRWEB) October 20, 2011
Two Americans, leaders in their respective fields, are hitting America's back roads this week in Prevost busses to talk Pork. President Barack Obama is on the campaign trail in North Carolina and Virginia, while Heath Hall and Brett Thompson of Pork Barrel BBQ are on a journey from Washington, DC to the 23rd annual Jack Daniel's World Championship Invitational Barbecue in Lynchburg, TN.
President Obama is traveling in "Ground Force One" stumping and seeking to win approval of voters, while the competition BBQ team of Pork Barrel BBQ cruises in style in a similar Prevost bus dubbed "Pork Barrel One" that is heading to the most prestigious barbecue contest in the world in hopes of winning over the tastebuds of the judges.
Both are sure to engage crowds with talk of community, small business success, and, of course, pork, but only one will actually sit around a smoker enjoying delicious barbecued meats and the company of the best pitmasters in the word.
Pork Barrel BBQ, the 2011 Grand Champions of Washington, DC's Safeway National Capital Barbecue Battle, is attending the invite-only barbecue competition to vie for the title of Grand Champion of Barbecue with over 90 pitmasters from around the U.S.A. and across the world.
Both President Obama and the Pork Barrel BBQ team are seeking to represent All-American values – in the case of the Grand Champions, it just happens to be about barbecue, community, and sharing good food and mostly true stories with family and friends.
According to Pork Barrel BBQ, the biggest difference between the two bus trips is the ease with which they will win over the crowd with their smoky and well-seasoned pulled pork, brisket, chicken and ribs.
"The President and the Republican candidates have a tougher job than we do," said Heath Hall, President & co-founder of Pork Barrel BBQ. "It is a much easier job to win a crowd of independent Americans over with heaping plates of bipartisan barbecue that packs a monumental flavor than with talk of the economy, jobs and healthcare."
The Pork Barrel BBQ team has a strong track record of success at barbecue competitions across the country, both through scoring highly with certified barbecue judges and by being selected as crowd favorites with Pork Barrel BBQ's most popular People's Choice award-winning sauces. The team, led by pitmasters and Pork Barrel BBQ co-founders Heath Hall and Brett Thompson, is the reigning Purdue National Chicken Champion and has several of their award-winning sauces available in grocery stores across the country, including Schnucks, Whole Foods, Central Market, Safeway, and Costco.
"It is an honor to represent Washington, DC at the most prestigious of all barbecue contests, the Jack Daniel's World Championship Invitational," said Hall. "We look forward to the day that President Obama stops by our soon to be open Restaurant in Alexandria, VA for a taste of pork that we thank all American's will agree has no constitutional issues."
For more information, visit the Pork Barrel BBQ website http://www.porkbarrelbbq.com and read about their latest updates and adventures on Facebook, Twitter (@porkbarrelbbq) and the company's blog.
About Pork Barrel BBQ
Pork Barrel BBQ was founded in December 2008 during the peak of the economic crisis to prove that a company not owned or operated by the federal government could succeed, and that if you had a good idea, it was still possible to grab a piece of the American Dream. Pork Barrel BBQ founders, Heath Hall and Brett Thompson, ran the company out of the basement of their houses, selling their award winning BBQ products one bottle at a time. In less than one year, their Pork Barrel BBQ Sauces and Spice Rub were carried in over 1,000 stores in 40 states. Throughout their journey, they have stayed true to their mission – to unite the nation through the great tradition of BBQ, and bring bipartisan flavor to your next meal. The Pork Barrel BBQ Competition BBQ Team entered its first contest, The Safeway National Capital Barbecue Battle, in June 2009, and walked away with two trophies – Second Place in the "Nations Best BBQ Sauce Contest" and Fourth Place for their pulled pork in the Memphis In May portion of the contest. Since then, the team has won multiple awards, including the 2011 Perdue National Chicken Championship, the Safeway National Capital Barbecue Battle in 2011, the "Chinet People's Choice" award for best BBQ sauce in 2010 and other notable Memphis in May and Kansas City Barbecue Society BBQ competition accolades as well as having their Pork Barrel BBQ Original BBQ Sauce named Best Sauce in America and one of "The 125 Best Foods for Men" by Men's Health Magazine in November 2010. For more information, visit http://www.PorkBarrelBBQ.com or follow Pork Barrel BBQ on Facebook and Twitter (@porkbarrelbbq).
###