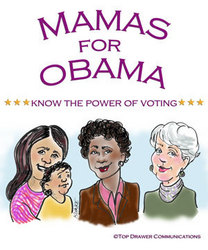 Mamas for Obama Know the Power of Voting.
Chicago, IL (PRWEB) May 15, 2008

Women who support Barack Obama's presidential campaign, (Obama Mamas) finally have an Obama T-shirt to wear that not only promotes an essential message about the importance of voting ... it looks and feels great, too. This long-sleeve political T-shirt, printed on front and back with original full-color artwork and violet lettering, is made of high-quality cotton that is super soft and contoured to fit a woman's body. The front of the shirt says, "Mamas for Obama Know the Power of Voting."
For purchase information, click this link.
"I designed these Obama Mama T-shirts because I have a closet full of political T-shirts that are boxy, ill-fitting, scratchy and just not fun to wear. I wanted to create something with personality and attitude that is also soft and comfortable," says Betsy Storm, principal, Top Drawer Communications, Chicago. She adds, " The T-shirts create a lot of attention and are surefire conversation starters."
"The objective is to remind people, in a lighthearted way, about the importance of getting to the polls to vote for Barack Obama," says Storm, who is donating 20 percent of the profit from the sale of each shirt to the Obama Campaign.
The front of the shirt depicts three diverse women of various ages, and the back lists a variety of "Obama Mamas," including work-at-home mamas, workplace mamas, grand mamas and step mamas.
The price is $25 plus $7 handling for shipping and handling. The T-shirts also are available on e-Bay.
Note to reporters: Graphics available at: http://www.topdrawercommunications.com/shirt-pics.htm.
Contact: Betsy Storm, Principal, Top Drawer Communications
Telephone: (312) 421-1510 or (312) 401-5222; betsystorm@topdrawercommunications.com
###