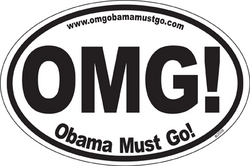 "America is not a Christian nation" - Barack H. Obama
Cumming, GA (PRWEB) December 15, 2009
The recently launched website OMGobamamustgo.com has announced the release of the OMG! Obama Must Go! bumper sticker for sale. The founders of OMGobamamustgo.com are concerned about the path our country is on, and that is why this simple and fun sticker was created to help thousands of citizens find and express their voice. They want to spread this message across the country the next 3 years up to the 2012 election. This simple and fun sticker says what so many are thinking and saying at the kitchen table and at small businesses across the USA…OMG! Obama Must Go!
Are you concerned about the rapid rate of radical leftist "change" that is taking place in Washington D.C? Changes including....Federal government healthcare control, Stimulus bill(s), Automobile bailouts, Newspaper bailouts, CIA dismantling, Military budget cuts, Higher and higher taxes, 10% unemployment, Cap & Trade (Tax) bill, Higher energy costs, Forced disclosure of who you vote for if you happen to work for a unionized firm, Intimidation tactics, FOX News bashing, Unrestrained spending, Disdain for capitalism, "America is not a Christian nation" - Barack H. Obama, Inflation, Deflation, No-growth policies, "Spreading the wealth", War tax, Embracing global warming, ACORN, and so many other poorly thought-out ideas and initiatives directed at greater government control over American citizens lives and thus, less freedom and prosperity for so many.
The OMG! Obama Must Go! sticker is the popular "euro oval" design with easy application and UV resistant print that will last for several years. Currently, stickers have sold in 23 states since the website launch in September of 2009. The stickers ship within 24 hours of purchase and would be ideal for birthday gifts or Christmas stocking stuffers.
About OMGObamamustgo.com
OMGobamamustgo.com is a website dedicated to spreading the message that the type of "change" taking place in Washington is unwanted. The OMG! Obama Must Go! campaign was started after the 2008 election. Since then, the popular designed sticker has spread throughout the United States, and OMG! participants have recently been seen active in marches across Washington D.C. You can purchase the bumper sticker at OMGobamamustgo.com.
###