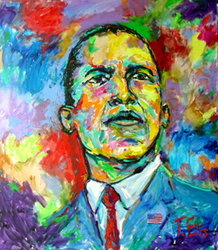 Courage of Conviction: The African American Soldier
Houston, Texas (PRWEB) January 8, 2009
Local Houston artist, Ted Ellis, will be unveiling his Painting of Obama at the National Black Chamber of Commerce and the National Newspaper Publishers Foundation Inaugural Gala recognizing the historical accomplishment of Barack Obama becoming the 44th President of the United States, along with his other works of art. Each print measures 20x20 and will be personally signed by Mr. Ellis.
This is one of many Presidential Inauguration Events and net proceeds will go to the NNPA Foundation and the Howard University School of Communications Building Fund (NNPA Media Wing). Taking place January 19, 2009, at the beautiful French Embassy in Washington, D.C., this promises to be one of the best events during this historic moment in our history. Tickets are $250 each and can be purchased by going to National Black Chamber.
Security will be high at the French Embassy. Only persons whose names are on the official participation list will be admitted. The only way you get on the list is by buying a ticket in advance (absolutely no walk ups). The ticket provides you with delicious food and libation, dancing entertainment provided by the award winning Howard University Jazz Ensemble and a beautifully crafted Commemorative Book.
Ted Ellis is a passionate man. He is passionate about his family… passionate about his heritage and passionate about his art. Just ask him and he proudly declares, "I paint Subjects that are representative of the many facets of American life as I know it. I like to think of myself as a creative historian. I was put here to record history…all aspects of American culture and heritage. My sole purpose has always been to educate through my art."
Ellis grew up and was educated in New Orleans, a city known for its history, style, and artistic exuberance. This backdrop inspired Ellis to capture the essence of the subjects of his childhood in the glory of their rich cultural heritage. Extremely dedicated to his craft, this artist draws on a style that was born in his childhood from impressions of his native city. Ellis is self-taught and boldly blends realism and impressionism in his work, evoking nostalgia and inspiration. The art of this man both reveres and celebrates the traditional values of his culture. Ted Ellis, the man, lives the life he paints about. View his website at T. Ellis Art.
Below are other upcoming events Ted Ellis art is featured:
Nov. 18, 2008 - Jan.18, 2009: "Surviving Katrina: The Hope Healing and Rebirth of New Orleans", a series of paintings being featured at the Lower 9th Ward Community Center, located 1001 Charbonnet Street, New Orleans, LA 70117, in conjunction with the citywide exhibit of Prospect One showcasing 81 international artists.
Jan.31 - Mar31, 2009: "Courage of Conviction: The African American Soldier", a series of paintings illustrating the undying loyalty of Black soldiers serving during the Civil War and WWI and WWII will be showcased at Stone Mountain Park Memorial Hall, 30087. A reception and lecture for the artist is being held on January 31, 2009 at (6:00 p.m.).
Feb. 1 - Feb. 28, 2009: "American Slavery: The Reason Why We're Here", over 20 paintings telling the enduring struggles and triumph of African-American Slaves. This exhibit will be featured at the library on the Texas Southern University campus. A reception and lecture will be held for the artist on February 5, 2009 at 6:30 p.m. This event is sponsored by Texas Southern University, and The Links Chapter of Spring, Texas.
See interview of Ted at: Fox News Interview
T. Ellis Art
800-222-3310 (toll free)
281-648-2617 (fax)
Media Contact:
Erania Ellis
832-221-8866
erania (at) Tellisart (dot) com
###