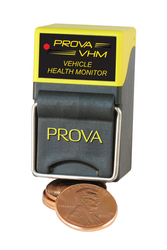 'The system has been designed to permit the easiest integration of diagnostic data into third-party fleet management packages sold by our resellers and used by our customers' remarked John Collins, President of Prova Systems.
Carbondale, PA (PRWEB) April 19, 2011
Prova Systems has launched a new OBD-2 API and developer's toolkit for application software developers who want to include Prova's OBD-2 data streams into their fleet management, pay-as-you-drive (PAYD) insurance and other vehicle management and tracking applications. The new API and toolkit makes it simpler and quicker for fleet management software providers to integrate Prova's vehicle and driver diagnostic data into their own applications.
The new API enables developers to capture the data provided from Prova's OBD-2 Vehicle Health Monitor (VHM) device and integrate that data into their own applications to strengthen the fleet and driver management capabilities of their own solutions. Prova's VHMs work in either standalone Zigbee local wireless configurations or in concert withthird-party cellular-based GPS systems to help gather the most accurate up-to-the-minute details on a vehicle's operations.
The API provides access to all of the data collected and analysed by the VHM's fuel efficiency monitors including vehicle idle times and odometer readings, driver behavior monitors and engine diagnostic monitors. It also permits real-time queries of a vehicle's operational parameters using the OBD-2 protocol. Data from the VHM is used to detect real-time operational health and vehicle emissions systems health. Because the systems report on critical systems health every time a vehicle is operated the data from the VHM systems can be used in emissions and safety self-certification programs to eliminate the expense and hassle of scheduled testing and certification.
The system data can also be used to chart and forecast scheduled and condition-based maintenance automatically through its ability to report back mileage readings and usage statistics. The data also tracks and predicts the replacement and repair dates for various automobile parts and systems like brakes, tires, oil, filters and other systems.
Prova's VHMs can be used with Prova's zigbee local wireless Access Point (AP) basestations which are installed at a fleet's hub locations or they can be programmed to upload their data to third-party cellular-based GPS devices for diagnostic data relay to third-party real-time fleet dispatch and monitoring systems.
'The system has been designed to permit the easiest integration of diagnostic data into third-party fleet management packages,' remarked John Collins, President of Prova Systems, ' we see a lot of fleet management customers who require reliable OBD-2 data but who don't want to pay for monthly service fees to collect the data. The system also makes it easier for fleet management system resellers to integrate Prova's products into their current product offerings."
As a local wireless system Prova's customers pay no monthly wireless subscriptions or data transport fees so the capture and analysis of this data is far less expensive than similar cellular/GPS based systems. This new API makes it easier for developers to deliver diagnostic data to their customers who want to take advantage of inexpensive local wireless systems to reduce their fleet management costs.
The new API has been designed to permit application developers the quickest route to implementation with limited implementation costs. The API and Developer's toolkit area available for $995 and includes two Prova VHM devices, a Zigbee Access Point, API documentation, test application and XML converter. The program also enables fleet management application companies to resell Prova's full range of diagnostic hardware to support their applications.
ABOUT PROVA: Prova Systems designs vehicle monitors, sensors and analysis products for the automotive fleet management, fleet services and insurance industry. The company offers complete turn-key fleet management and vehicle service systems as well as third-party fleet management and OBD-2 application development programs and OBD-2 chipsets and reference designs. The company is based in Carbondale, PA and sells its products directly and through resellers in the USA and internationally.
# # #