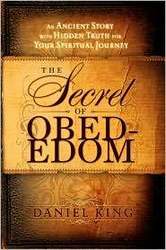 I am surprised at how few people have ever heard of Obed-Edom
(Vocus) July 25, 2009
Most Christians know the well-loved stories of Moses and the Ten Commandments, Joseph and the court of Pharaoh, Jesus healing the blind man, but people who are truly biblically literate also study the little-known Bible stories. Are Christians biblically illiterate?
"I am surprised at how few people have ever heard of Obed-Edom," says Daniel King, who authored the new book The Secret of Obed-Edom, "The story of Obed-Edom is the greatest undiscovered story in the Bible. He's an obscure Bible character, and I continually run into people who say 'Obed-Who?' when I mention his name, but his story has an amazing impact on anyone who discovers it."
Obed-Edom's story began when King David put the Ark of the Covenant in Obed-Edom's house for three months. The Bible says, "God blessed his household and everything he had." But, Obed-Edom's story does not end there. He's mentioned seven more times in the Bible, and each time he's mentioned, he's been promoted. He starts out as a gatekeeper for the house of God. Soon he becomes a harp player in the temple worship group. Later, he becomes a doorkeeper right in front of the holy place. Then King David appoints him to be a minister. After that, he becomes a leader in the house of God. Finally, we see his entire family is serving God, and the last time he's mentioned, he is the keeper of the temple treasury for the entire kingdom.
"The story of Obed Edom perfectly parallels the path that every successful Christian takes," says Daniel King, author of The Secret of Obed-Edom, "I have met some of the greatest Christian leaders of our day, and none of them became great overnight. They all became successful because of long periods of faithfulness to serve God. In Obed-Edom's story, we discover that the secret to promotion is faithfulness, and this is a message I think every Christian needs."
About Daniel King
Daniel King is a missionary evangelist who has ministered in over 50 nations around the world. The goal of King Ministries International is to lead one million people to Jesus every year through massive miracle crusades, leadership training, literature distribution and humanitarian relief. For more information about Daniel King, visit http://www.kingministries.com and check out his new book The Secret of Obed Edom available by calling 1-877-431-4276.
###