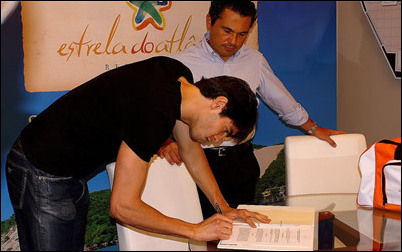 Marbella, Spain (PRWEB) July 23, 2007
Kaká, the Times' world player of the year, Seria A player of the year, Copa American winner and Champions league winner with AC Milan said that 'The choice for Natal, with certainty, is one of the prettiest cities in Brazil. It is an interesting part of our country and the closest proximity to Europe. This chance appeared for Natal and I used it to my advantage and believe the tourist potential and capacity of yield the enterprise has to offer' Kaká proceeded to tour his apartment admiring the view of Ponta Negra Beach from the Estrela do Atlântico.
Obelisk International's release of the second phase of the Estrela do Atlântico project in Natal, Brazil follows only a matter of weeks after the initial release of the project which saw all 69 available units sold within 48 hours.
Obelisk International's Sales & Marketing Director, Kevin Prior explained that 'As a consequence of the unprecedented success represented by the 'Phase One' release of Estrela do Atlântico, Obelisk International felt that a secondary release was the correct evolutionary step to take. The project represents substantial value and provides not only exceptional growth potential but also, at 18% below comparative market values, a strong investor's edge."
Natal has had years of good management and with the knowledge that tourism is its greatest potential, has drastically changed the state capital. Residents in Natal know how important the tourists are for the economy, which reflects on the warmth towards their internal and external visitors.
High quality developments like Estrela do Atlântico are very important to the structure of Natal and the trend is having a huge knock on effect on the type of services, all of which are catering for an ever increasing luxury tourism industry. In June 2009, Natal is to see another major boost in the capitals infrastructure and increased tourism, with the opening of South America's largest and the world's eighth largest airport which boasts an impressive investment input of $130 million.
For more information on global investment opportunities and to find out about Obelisk International's latest projects, contact Obelisk International 0808 1600670.
About Obelisk International:
Obelisk International is a real estate investment company providing global investment opportunities that offer security, tangible and impressive financial performance. Their service to investor is based upon three main principles, profit, and performance.
Press contact:
Chris Green
Obelisk International
+34 952820 319
http://www.obeliskinternational.com
###