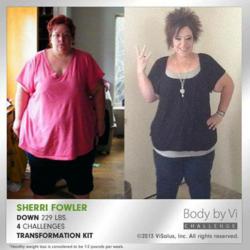 We have millions of customers on the Body By Vi Challenge so there are thousands of testimonies of people who have utilized the stories to change their lives. - Ryan Blair, CEO of ViSalus Sciences
Tampa, Florida (PRWEB) June 29, 2013
Body By Vi Challenge Active Couples Champion and Vi Ambassador Melanie Milletics sees the American Medical Association declaring obesity a disease as an urgent reason to promote the weight loss program, the Transformation Kit, available through the Body By Vi Challenge. In her four years of promoting the Challenge since its launch in July 2009, Melanie has personally helped thousands, and watched the weight loss before and after photos flood social media as the company helped millions achieve their weight loss goals with a proven program for living a healthy lifestyle and losing weight, the 90 Day Challenge.
The Body By Vi Challenge awards $47 Million in prizes to people who use a Challenge kit and have the best 90 day transformation. Body By Vi holds that the 1st 10 pounds is the most significant, and therefore they set out to also reward those who lose 10 pounds. With Project 10, the Challenge awards $10,000 to 10 people who lose 10 pounds every week. And when an entry is submitted to claim their "I Lost It" T-shirt and the chance at $1000, ViSalus donates a bag of Vi-shape meal replacement to a child suffering from childhood obesity through Project 10 kids.
ViSalus Sciences is the company behind the Challenge, and their mission is to literally 'Take Weight Off the World' by providing people with a healthy platform for weight loss. They have proved that the Transformation kit works for the morbidly obese as their 'Century Club' for people who have lost 100 pounds grows. There are people who have lost 200 and even more than 300 pounds on the Challenge, and promoters like Melanie Milletics are adamant that Body By Vi is an alternative to weight loss surgery or weight loss drugs for people who are morbidly obese.
The Transformation kit was designed by the Scientific Advisory Board of ViSalus to work for people who suffer from obesity related diseases such as diabetes, heart conditions and high blood pressure. As such, its diabetic friendly, low sodium and does not contain stimulants or herbs that could interfere with medications for those conditions. ViSalus does not claim to cure or prevent any diseases with their product line.
"It all starts with the products," says ViSalus CEO, Ryan Blair. "They're designed to taste good, which means people are more likely to comply with them. In addition to that, this is a social challenge. People are doing it together with their friends and family, and so they're more likely to comply because they're accountable to each other."
The Challenge is a complete weight loss platform which includes the Transformation Kit, online tools and application to track your progress, and an entire community of Challengers who connect through social media to support and uplift people who take on the Challenge.
"Taken together it works," says Blair. "We have great success stories. We have millions of customers on the challenge so there are thousands of testimonies of people who have utilized the stories to change their lives."
Body By Vi Challenge Active Couples Champion and Vi Ambassador Melanie Milletics is determined to let the public know that there is an affordable alternative to medical weight loss. The decision to declare obesity a disease by the AMA was countered by the AMA's own Council on Science and Public health because the stigma of being obese might push people towards surgical treatment or expensive weight loss drugs. If people are unaware of the alternatives and the rate of success of those who have used the Transformation kit, then they may think they have no choice. They have a choice. It's called the Body By Vi Challenge, and it is the solution to the obesity epidemic.
Melanie Milletics is a Body By Vi Champion and an Ambassador for ViSalus Sciences, and has been an Independent Promoter of The Body By Vi Challenge since its launch in 2009. You can reach Melanie Milletics for an interview at the contact form found at http://www.USABodyByVi.com or by calling 727-565-2053