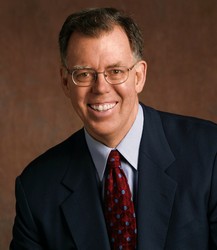 One solution to this problem is to make sure that the mother is controlling the dietary environment of the child
New York, NY (PRWEB) January 1, 2009
Recent reports have indicated that childhood obesity is set in place by the age of five, but, "Actually, it starts in the womb," says Dr. Barry Sears, one of the world's leading experts on the impact of diet on hormones and gene expression.
"Obesity has an exceptionally strong genetic component. Couple that genetic predisposition with the wrong hormonal mix in the womb, and the child is destined to a life-long struggle against obesity and its health consequences," added Dr. Sears, whose MedWell Foods was founded to help people lose weight.
"One solution to this problem is to make sure that the mother is controlling the dietary environment of the child," said Dr. Sears. "Unfortunately, this is easier said than done, as it is likely that the mother has the same genetic predisposition as the child in the womb and more than likely is eating the types of junk food that ensures an obese child."
Dr. Sears rose to prominence when he wrote The Zone, a New York Times #1 bestseller. He also wrote Toxic Fat, the just released book about obesity that addresses the causes of obesity and offers solutions to help people struggling with their weight.
Dr. Sears says, "It is often easier to change one's religion, than to change their diet."
Therefore, he set out several years to invent a new technology that could provide healthy comfort foods that would alter the gene expression of both the mother and the child in the womb.
He founded MedWell Foods, which offers products that are a result of new food technology that allows the production of once "forbidden" foods that normally cause people to gain weight, such as breads, pasta and desserts that now have been developed to decrease hunger instead of promoting it.
"By simply substituting the MedWell equivalent for the foods that people like to eat, you are ensuring a dramatic increase in appetite suppression along with beneficial changes in the genes that would otherwise promote obesity."
MedWell food products can be ordered directly from the company at 866-633-7898 or online at http://www.medwell123.com.
"If you want to reduce the likelihood of obesity in your children, start thinking about the hormonal consequences of your diet, before your child is ever born. He or she will be thankful that you did," said Dr. Sears. Contact Brian Dobson by email at bd @ dobsonpr.com