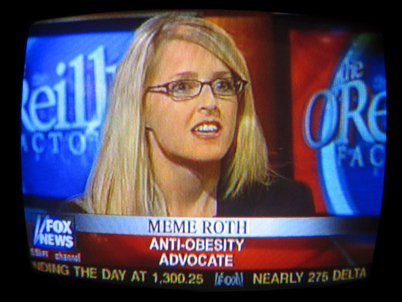 Seriously, it's time to recognize obesity as abuse--abuse of our children and abuse of ourselves--and to name those most responsible for this crisis, as well as the many heroes who refuse to sit idle.
New York, NY (PRWEB) December 19, 2006 -
http://www.actionagainstobesity.com -- As obesity in America reaches an all time high, Anti-Obesity Advocate MeMe Roth and National Action Against Obesity name 2006's "Action Heroes" and "Villains" in the fight against obesity.
"What would Christmastime be without a 'naughty and nice' list?" said National Action Against Obesity President, MeMe Roth. "Seriously, it's time to recognize obesity as abuse--abuse of our children and abuse of ourselves--and to name those most responsible for this crisis, as well as the many heroes who refuse to sit idle."
NAAO's 2006 "Action Heroes":
1- Margo Wootan- Nutrition Policy Director- Center for Science in the Public Interest- http://www.cspinet.org
If it's possible to have a "hero crush" on an organization, mine would be on CSPI and its "Nutrition Action Healthletter." The consumer watchdog group has been sounding the alarm for years about the dangers of trans fat and other artificial ingredients among America's favorite foods. Margo Wootan has tirelessly crisscrossed the country speaking out about sub-par school lunches, the need for better nutrition information at restaurants and on food labels, and the hazards of cola consumption. She, along with her CSPI colleagues, is the voice behind many of the recent regulations for food labeling and trans fat eradication.
2- Thomas Frieden- New York City Board of Health Commissioner
Hooray for New York City and its Health Commissioner Thomas Frieden who had the courage and resolve to eliminate trans fat from New York City restaurants. The move will resonate across the country as chains, diners and family restaurants in the Big Apple retool their recipes to meet the July 1, 2007 deadline to switch to trans fat-free cooking oils and the July 1, 2008 deadline to limit all trans fat to trace amounts. Hopefully New Jersey, with Senator Ellen Karcher's proposed legislation, will follow suit. Disney, Wendy's, Chick-fil-A, KFC, and many more already have or will make the healthier switch. All above are indebted to Stephen Joseph and his http://www.bantransfat.com, the organization serving as a model and inspiration with its successful 2004 "Project Tiburon" in Tiburon, California, America's first official trans fat-free city. Additional kudos to Thomas Frieden and New York City for demanding that calorie information be displayed alongside menu items.
3- Two Angry Moms- Amy Kalafa and Susan Rubin- http://www.angrymoms.org
I was a spectacular failure when it came to trying to improve the school lunches in tony Millburn, NJ. After an attempt to swap junk food for Whole Foods, the PTA served me with a letter suggesting my family move. Putting my efforts to shame is the next NAAO Obesity Action Hero. Congratulations to Amy Kalafa and Susan Rubin, the founders, forces and food experts behind "Two Angry Moms," both a movement and documentary aimed at improving the deplorable quality of America's school lunches. Regardless of threats, name-calling and ostracism, Two Angry Moms refuse to daintily quiet themselves among the PTA and instead are forcing America to see the clear picture when it comes to garbage slopped onto trays parading as school lunch.
4- Dr. Mehmet Oz- Dubbed "America's Doctor" by Oprah Winfrey- http://www.youonadiet.com
He and his partner Dr. Michael Roizen, with their web sites, cable shows, radio shows, books and extended-family authors provide straightforward, in-depth information about the basics of what should be considered normal eating and exercise. In today's climate of gluttonous junk food consumption and sedentary lifestyles, Dr. Oz's guidance is radical: It's your responsibility to eliminate trans fat, high fructose corn syrup and other artificial foods from your diet; eat whole grains, fresh fruits and veggies; and exercise daily. He also dismisses the common belief that with age comes obesity. Modifying ones lifestyle eliminates that fate. Thanks to regular appearances on Oprah, Dr. Oz's message has reached the masses and stands to shift the thinking and behavior behind America's obesity epidemic.
5- Jack LaLanne- The Godfather of Fitness
At 92, Jack LaLanne is still going strong, citing that "death would be bad for business." Spending each morning in the gym and pool, LaLanne is the quintessential poster boy for physical fitness and longevity. For decades, America's favorite fitness guru has amazed the masses with physical feats and tests of strength and stamina. Meanwhile, LaLanne preached the benefits of eating natural whole foods and forgoing sugary treats. Leading into 2007, his message endures. "If man made it, don't eat it." Amen, Jack.
Other notable NAAO 2006 Action Heroes:
Dr. Brian Wansink, Author and Professor- Cornell University's Food and Brand Lab- http://mindlesseating.org
Wansink snapped America out of its "Mindless Eating" with his startling book about just that: Americans stuffing their faces with 5-day old popcorn, just because it's there.
Nanci Hellmich- USA Today Fitness and Nutrition Editor
Hellmich has dedicated significant USA Today column inches to the topic of obesity in 2006 providing insightful, informative and practical information on the enormity of the problem and how best to address obesity in America.
Bill Clinton and the American Heart Association- Alliance for a Healthier Generation- http://www.healthiergeneration.org
America's biggest junk food producers aren't about to surrender their wide profit margins to save the country's 24 million at-risk or overweight children, but at least Clinton has opened the dialogue and has Kraft, Mars, Campbell Soup, Dannon and PepsiCo agreeing to set some limits on just how much junk is in the junk food going into schools.
American Academy of Pediatrics- http://www.aap.org
The 65,000-member group asked Congress and the FCC to ban junk food ads during television shows viewed mainly by children under age eight.
Clotaire Rapaille- Author, Marketing Guru, Cultural Anthropologist, and former Psychotherapist- http://www.rapailleinstitute.com
With examples of Al Gore, married women and people across the spectrum, in his most recent book, "Culture Code," Rapaille sums it up best and without apology: Americans use "getting fat as the most common available unconscious way to check out from the rat race…"
NAAO's 2006 "Villains"
For every Action Hero there is his nemesis. True too in the fight against Obesity. National Action Against Obesity was challenged to whittle down the list among so many Obesity Villains. There are obvious offenders such as Coca-Cola and Pepsi, purveyors of the high fructose corn syrup concoction marketed to and favored by so many of America's overweight teens--teens with an increased likelihood of premature death. Or should fast-food chains be considered for their outrageous marketing in 2006? McDonald's hocked its chicken wrap as a "snack." Taco Bell, before its e-coli crisis, introduced us to the "Fourth Meal," suggesting we should squeeze in yet another meal after dinner, but before breakfast. And there was Dunkin' Donuts with its catchy jingle peddling smoothies, "Lunch is over--and dinner is so so far away…" But NAAO thinks Hardee's was the most impudent of the fast foodies in 2006, with the introduction of its hulking Philly Cheesesteak Thickburger. The most decadent--or dangerous--item on Hardee's menu? Hardee's Double Bacon Cheese Thickburger, delivering a gut-busting 1300 calories and 96 grams of fat.
We also could look to Big Pharma and their role in obesity. From Pfizer to Sanofi-Aventis, they're all racing to deliver an alternate cure for obesity, other than the exercise and diet, knowing Americans prefer to pop pills than break sweats. However, addressing the ever-expanding obesity market poses a major problem for the world's pharmaceutical giants: the market is so big, insurance companies will likely balk at covering costs.
NAAO could look at government. If obesity is truly an epidemic, where's the commitment of increased funds for physical and health education? Where does the FDA stand on trans fat? Should it not be leading the cause to recall the toxic oil? And America's school systems--they're still in bed with junk food producers in the name of fundraising. Texas, with a reported 25% of overweight or obese children, passed the inane "Safe Cupcake" amendment sponsored by Representative Jim Dunnam, a Democrat from Waco, guaranteeing cupcakes, pizza and other junk food will remain welcome in Texas classrooms.
But if NAAO had to chose just one Obesity Villain for 2006?
Parents- Yes, loving, caring parents are the number one perpetrator of obesity proliferation. Headline after headline warning about the dangers of obesity among children continue to be ignored as parents disregard widely available healthy alternatives and shovel high saturated fat, artificial coloring, synthetic hormones, and high fructose corn syrup-laden junk food into the eager mouths of their progeny. You know who you are. When it comes to your children, you order pizza with a side of french fries, you serve your children doughnuts or white bagels for breakfast, you think Pop-Tarts are an after-school snack, and you have your children guzzle down juice, soda and sports drinks. But it doesn't stop there. You send the same junk food into your children's schools, sports leagues and after-school activities to share among all the unsuspecting kids. Regardless of how pleasurable the junk food may be, the outcome is harmful to children--yours, mine, all. You may be waiting for marketers, restaurants, school boards and even the government to ban junk food, but no one is forcing junk food into your shopping cart, onto the table or into school lunch bags. Want healthier children with a chance to grow into healthy adults? When it comes to junk food, it's up to you as parents to say, "no."
Obesity Fast Facts:
According to the Centers for Disease Control and Prevention… 66% of all U.S. adults are overweight. 71% of men are overweight. 31% of men are obese. 62% of women are overweight. 33% of women are obese. 34% of U.S. children are overweight. 17% of children are obese.
According to recent Northwestern University Study, Parents frequently fail to see their children's obesity.
Estimated Costs associated with the U.S. obesity epidemic range from $80-$130 Billion.
About MeMe Roth
MeMe Roth, president and founder of National Action Against Obesity, is host and organizer of the Wedding Gown Challenge, where women enter into marriage at a healthy weight and maintain it for a lifetime. As an anti-obesity advocate, Ms. Roth's efforts to eliminate junk food from schools, eradicate 2nd-Hand Obesity and to celebrate women committed to remaining fit have been featured on FOXNews' The O'Reilly Factor w/ Bill O'Reilly, Your World with Neil Cavuto, CBS's The Early Show, The New York Times, New York Magazine, The New York Post, Playboy Magazine, The New Jersey Star-Ledger, TimeOut New York, Big Apple Parent, WABCRadio, 106.7 LiteFM, Q104.3, Parents Magazine, Vicinity Magazine, Suburban Essex Magazine, School Administrator, American School Board Journal, The Winnipeg Sun, UPN Channel 9 News, News Target, Baristanet.com, The Item, WCRN Boston, BigFatBlog, Nippon TV, The Associated Press and Health Magazine. Ms. Roth's agenda: "Let's finally recognize obesity as abuse--abuse of our children, abuse of ourselves--and together take action against it." http://www.actionagainstobesity.com
###