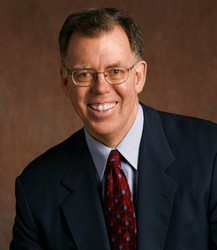 As America works to reverse the obesity crisis, relying simply on encouraging people to eat less and exercise more is not enough to succeed, because the nation's obesity problem is much more intricate
Washington, DC (Vocus) October 19, 2010
"As America works to reverse the obesity crisis, relying simply on encouraging people to eat less and exercise more is not enough to succeed, because the nation's obesity problem is much more intricate," announced Dr. Barry Sears, creator of the Zone Diet.
An expert on obesity and bestselling author of "The Zone," Dr. Sears told The Daily Caller news site that a main problem in obesity is that the proportion of omega-6 fatty acids in the diet is far too high relative to omega 3 oils.
"Too many omega-6 fatty acids in the diet can promote inflammation, while omega-3 fatty acids decrease inflammation. Omega-3 is found in food such as fish oils, walnuts, and spinach, while omega-6 is in low-cost vegetable oils, such as corn oil and soybean oil," he said.
"You need a one-to-one balance of omega-6 to omega-3 in the diet, like it was a century ago, rather than today's approximate twenty-to-one ratio," Dr. Sears told reporter Caroline May of The Daily Caller, which was founded by Tucker Carlson, TV host and political commenter.
The nation's obesity crisis has resulted in significantly higher incidences of weight-related health issues, from diabetes to heart problems, he noted.
"Reducing omega-6 is not easy since as taxpayers we spend about $20 billion a year subsidizing agri-business to produce food ingredients that make us more inflamed. Unfortunately, these are some of the most ubiquitous ingredients in the food supply today; virtually every processed food in the supermarket aisle contains omega-6 fatty acids," Dr. Sears said.
"One of the greatest health-care disasters in the 20th century was when parents stopped giving their children fish oil, such as a tablespoon of cod-liver oil a day. A tablespoon of that awful-tasting cod-liver oil has about 2.5 grams of omega-3 fatty acids, and that is enough to turn back the inflammatory tide."
Dr. Sears amplifies his message in a ZoneDiet.com video online at http://www.tinyurl.com/ctqdvd.
Dr. Barry Sears is founder of Zone Labs, based in Marblehead, MA, which has introduced Zone Foods, including pasta and breads that are made to his Zone specifications of fat, protein and carbohydrates. Zone food products are available online at ZoneDiet.com and also include bagels, rolls, cookies, chips and pizza made to the Zone criteria of one gram of fat for every two grams of protein and three grams of carbohydrate. ZoneDiet.com also offers Dr. Sears' OmegaRx fish oil.
"The new Zone 1-2-3 foods are made to suppress hunger between meals but are delicious and taste exactly like the products that Americans consume today." Dr. Sears said.
Dr. Sears, a scientist and expert on obesity, is a leading authority in anti-inflammatory nutrition. He is the creator of the anti-inflammatory Zone Diet as well as the author of 12 books, including the New York Times #1 best seller "The Zone." His books have sold more than 5 million copies and have been translated into 22 languages. For information online, please visit DrSears.com or http://www.ZoneDiet.com. Media contact is Brian Dobson at DobsonPR.com or bd (at) dobsonpr (dot) com. ###