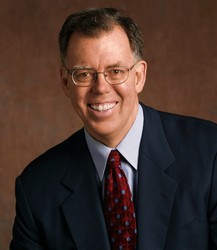 The good news is that the impending crisis can be reversed if Americans shift to an anti-inflammatory diet from the current pro-inflammatory diet that is an underlying cause of obesity
San Bernardino, CA (Vocus) June 3, 2010
A perfect nutritional storm is sweeping across America causing health-care costs to spiral to crisis levels due to increasing obesity and related problems, such as diabetes, Dr. Barry Sears, bestselling author of The Zone and creator of the Zone Diet, told listeners of KCAA AM radio in Southern California.
"The Perfect Nutritional Storm is due mainly to government subsidies of corn and soybean crops that have caused a glut of cheap refined carbohydrates and vegetable oils, which when combined can increase production of toxic fat that activates genes in people genetically predisposed to become obese," he said.
Dr. Sears, an expert on the hormonal impact of foods, told listeners on The Morning Show with host Brett Malak that while we can't change our genes, we can change their expression through the foods that we eat.
"The good news is that the impending crisis can be reversed if Americans shift to an anti-inflammatory diet from the current pro-inflammatory diet that is an underlying cause of obesity," he said. "In America we ate our way into an obesity problem with pro-inflammatory diets, and now we can begin to eat our way out of the problem with an anti-inflammatory diets."
In his latest book, Toxic Fat, Dr. Sears addressed the causes of obesity in American and around the world and mapped out a strategy for solving the problem, such as helping people lose weight through the Zone Diet.
"With the right diet we can silence the genes that turn on inflammation and take control of our future," he said. "With one-third of the 77 million baby boomers now obese, health-care costs will begin to explode as they reach age 65 this year and next."
Zone foods created by Dr. Sears are only available online at http://www.ZoneDiet.com.
Dr. Sears is an international authority on the hormonal responses induced by our diet. His books have sold more than five million copies in the United States and have been translated into 22 languages. Zone Labs Inc. has headquarters in Marblehead, Massachusetts. More information is available at http://www.zonediet.com.
###