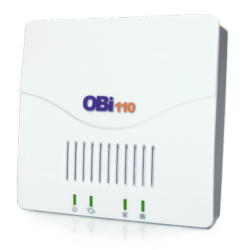 "With Obihai's development pedigree, a 1-year warranty, and VoIP service options that include Google Voice, users have a wealth of options from OBi adapters," said Garrett Smith, VoIP Supply CMO.
Buffalo, NY (PRWEB) November 06, 2012
What makes the world go 'round? Some say that it's love or, maybe money.
Whatever it is that gets Earth rolling, technology experts could argue that it's adapters that keep the world spinning.
People don't think about them much but, hardware adapters keep a business productive by upgrading systems incrementally when the technology they rely on is always changing.
Enter, the Obihai Analog Telephone Adapters (ATAs).

Obihai VoIP adapters support existing analog phones and fax machines to upgrade them to cost saving VoIP services.
Most Obihai devices support Google Voice (excluding the OBi302). Google Voice consolidates all calls and phone devices into one centralized phone number.
Obihai OBi adapters allows addition and configuration of multiple VoIP Service Providers to a single OBi device.
All Obihai products include OBiTALK, the web integration portal for downloading OBiON apps for smartphones and tablets and for sharing OBi's service with friends and family.
The free calling system from Google Voice gives users a new phone number from which to make or receive calls from anywhere in the world with add-ons such as voicemail, voicemail-to-email, voicemail to text, multi-party conference calling and more.
OBiTALK offers remote configuration and management of OBi adapters which works great for Service Providers and VARs.
Obihai is now partnered with VoIP Supply to offer the OBi100. OBi110, OBi202, and OBi302. These VoIP Adapter options offer a range of ports and features to accommodate different applications.
"Obihai products are engineered by the same people who invented the VoIP adapter," said Garrett Smith, Chief Marketing Officer at VoIP Supply. "With Obihai's development pedigree, a 1-year warranty, and VoIP service options that include Google Voice, users have a wealth of options from OBi adapters."
For more information on the line of Obihai OBi VoIP Adapters carried by VoIP Supply, please visit http://www.voipsupply.com/manufacturer/obihai or, call 800-398-8647.
About VoIP Supply
VoIP Supply, LLC (http://www.voipsupply.com), a division of Sayers Technology Holdings, is North America's leading supplier of VoIP equipment and integrated communication systems for businesses of all sizes, service providers and resellers. Widely recognized for its depth of product knowledge and industry expertise, VoIP Supply sets the standard for vertical E-tailing – providing value-based pricing across its comprehensive product catalog, expert technical support, rapid product provisioning and installation, global logistics services and market-making promotions for manufacturers of all sizes. In addition to technology and service prowess, VoIP Supply is a three-time INC 5,000 honoree and in 2007, was ranked number 45 on the Entrepreneur Magazine's Hot 100 fastest growing companies in the U.S. Buffalo's Business First newspaper recently ranked VoIP Supply among Western New York's top 50 privately-held companies rating the company as one of the best places to work in the region, as well as the fastest growing company in WNY for 2006 by winning the Business First Fast Track 50 Award.