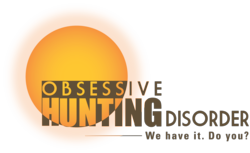 This was the first hunting season that our Web Application was available and the feedback we received was great! We will keep making enhancements as we prepare for the next season!
Lake Geneva, WI (PRWEB) January 15, 2013
With hunting season closed in many parts of North America, ObsessiveHuntingDisorder.com's registered users have increased dramatically—40% to be exact since the start of the season. Registered hunters will benefit greatly from the logged observations of their favorite big game animals on the website. Hunters simply enter the date and time when they observed the animal and the Online Hunting Journal software will do the rest. The program calculates solar data and lunar data, and retrieves current temperature, humidity, barometric pressure, etc… All of this data is then linked to the hunter's specific location and made available to all users.
ObsessiveHuntingDisorder.com does all of this in less than 15 seconds. Founder Duane Keenan had this to say: "Writing this information in a notebook is an outdated method which wastes too much time and does not yield quality results. My website will completely revolutionize the hunting industry. It is designed for today's hunter who is focused on embracing technology." The website's biggest feature is its easy-to-use, intuitive design which allows anyone, regardless of skill level, to fully utilize it.
ObsessiveHuntingDisorder.com also released major enhancements during the hunting season to better serve hunters. The Interactive Hunting Map allows hunters to draw game trails, and identify bedding areas, food sources, animal signs, trail cameras, and of course hunter's stands. The markers can be dragged and dropped, making it easy for hunters to create and update their hunting areas. Users are then just a click away from getting the solar, lunar, and weather data for any one of the markers on the map. "One of my absolute favorite features is the wind direction arrow. It is displayed on the map at all times, so that a hunter knows exactly where his/her scent is blowing," said Duane.
The second major enhancement was to make the website more user-friendly for mobile devices. Hunters are able to get six lunar variables (moonrise, moonset, moon transit, moon underfoot, moon phase, moon age), four solar variables (sunrise, sunset, sun transit, photo period), and six weather variables (current temperature, humidity, barometric pressure, forecast, wind, conditions) as well as record observations while sitting in their stands. "As we speak, we are finalizing an enhancement to the Mobile Web, which will show the hunters exact location, on their hunting map, using the smart phone's GPS." said Duane.
Go to ObsessiveHuntingDisorder.com now to get started!