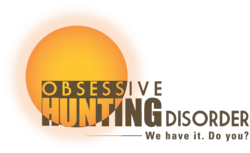 This website will be as valuable and important to hunters as the weapons they use to pursue their favorite animals.
Lake Geneva, WI (PRWEB) September 26, 2012
"Hunters hunt at ground level, but need to see the big picture," says Duane Keenan, founder of ObsessiveHuntingDisorder.com. The map took more than 2000 hours to design and develop. "We want to give hunters a bird's eye view of the terrain," said Duane Keenan. "It's not only how we approached the project, it's how we will change the industry." ObsessiveHuntingDisorder.com has tripled its user base since earlier announcements of the Interactive Hunting Map's development. The site launched the new application on September 22nd, the first day of Fall, and hunters have already started using it.
The application will allow hunters to place icons that represent stands, scrapes, rubs, droppings, food sources, trail cameras, etc. on a Satellite or Terrain Map. Users will also be able to draw deer trails, fences, bedding areas, and property borders. Another unique feature allows users to name the icons and tag notes with the objects for future reference. When asked about the complexity of the new software, Duane had this to say: "Our major focus was to make sure that the application was easy to use without compromising functionality. It may have taken longer than we had hoped but I believe we found that balance." Each one of those icons will be used as a Marker/Stand for entering observation into the database.
Along with objects placed on the map by hunters, there is a Wind Direction Arrow visible at all times. Lead Application Engineer David Neri commented on this by saying: "I really like the fact that the current, live wind direction is shown on the map at all times. Any experienced hunter understands the importance of the relationship between wind direction and scent control. This feature allows me to be visually aware of that and use it to make better hunting decisions." Future enhancements will allow hunters to access everything from the Hunting Area page, so that access and entry of observations is easier and quicker. The goal is to have an online application that is comprised of a single page with easy access to all the great features, so hunters spend less time surfing and more time using. Previous revisions incorporated dynamic solar, lunar, and weather data for past dates, current date, and future dates. Those features coupled with the Interactive Hunting Map make ObsessiveHuntingDisorder.com a valuable accessory for all hunters. ObssesiveHuntingDisorder.com is in early development of their iPhone and Android Interactive Hunting Map application, which should be released in early 2013.
Go to ObsessiveHuntingDisorder.com to sign up and use the Interactive Hunting Map!