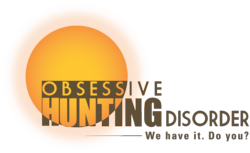 Take your hunting to a new level with this Free Online Application! What do you have to lose?
Lake Geneva, Wisconsin (PRWEB) November 14, 2012
How does ObsessiveHuntingDisorder.com help hunters? The Free Online Hunting Journal gives hunters the ability to retrieve and record a large amount of data for the times they see animals and the times they don't. The site is designed such that registered hunters can retrieve data and enter observations in a matter of seconds not minutes.
What data is provided? ObsessiveHuntingDisorder.com automatically calculates six lunar variables (moonrise, moonset, moon transit, moon underfoot, moon phase, moon age), calculates four solar variables (sunrise, sunset, sun transit, photo period), and retrieves six weather variables (current temperature, humidity, barometric pressure, forecast, wind, conditions). This information is not generic times, like seen on other websites or in magazines. This information is specific to your exact location and its not just stored in a file; this information is added to a database along with hundreds - if not thousands - of hunting observations from other registered hunters. ObsessiveHuntingDisorder.com won't share hunting secrets because hunter's exact locations and observation notes are kept private.
Don't pay a website for the Peak Hunting Times! The secret is out! "Peak Hunting Times" are based on four periods of the day: when the moon is just starting to rise over the horizon, when the moon is directly overhead, when the moon is just setting below the horizon, and when the moon is directly underfoot, all in relation to an exact location. ObsessiveHuntingDisorder.com will record this information - and much more - for each observation entered into the database.
What makes Obsessive Hunting Disorder's predictions better than a hunter's? Nothing! They aren't making predictions. They gather the raw data and let hunters decide what data they are most interested in, so that hunters can make their own decisions and predictions.
ObsessiveHuntingDisorder.com also provides hunters with their very own Interactive Hunting Map!
With the Hunting Season underway it is time to create an account and start patterning the animals by entering data.
Go to http://www.obsessivehuntingdisorder.com now to get started!