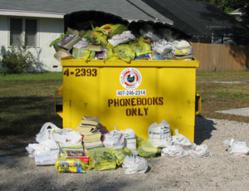 It's not about if they go away, it's about when
Northport, NY (PRWEB) December 10, 2012
YellowPagesGoesGreen.org, a business directory website at the forefront of the environmentally-conscious "Green" movement, is anticipating 2013 to be the year that digital truly takes hold of the business directory industry, vanquishing obsolete and ineffective print telephone books once and for all in favor of web and wireless-based directory distribution; something that YellowPagesGoesGreen.org has been a staunch advocate of since its inception.
YellowPagesGoesGreen.org is a cutting-edge website delivering over 28.5 million up-to-the-minute listings of businesses throughout the United States and Canada; users can quickly, easily, and conveniently access the information they need to find the goods and services that they want. This can be done not only through their website, but through their Android and Apple digital Applications ("Apps") released this past year.
"YellowPagesGoesGreen.org sees 2013 as the year to truly bring environmentally sound ease and effectiveness of digital business directory solutions to everyone. The hazards posed to the environment by outdated print phone book publishers, whose content is often out-of-date weeks or even days after they're dropped upon doorsteps, continues to hurt the envirornment" said CEO and President, Michael Keegan. "In contrast, the millions and millions of listings on YellowPagesGoesGreen.org are updated daily, even hourly, always giving consumers the most cutting-edge information possible." he added.
In an article posted on Inlander.com, Colorado's Rep. Mark Ferrandino illustrates this fact by saying that, because of Google and Smartphones, print phone books are slowly becoming an obsolete piece of technology desperately clinging to an outdated business model. "It's not about if they go away, it's about when," he said.
In addition to the inefficiency of print directories, their cumulative environmental impact over the years is getting harder and harder to ignore. Inlander.com reports that, in 2005, according to estimates provided by the Environmental Protection Agency, 660,000 tons of phone books were manufactured - but only 18 percent were recycled.
A portion of this lack of recycling could be attributed to yet another hard fact; that phone books are among the more difficult items to recycle based on their manufacturing process. Environment.About.com points out that many recyclers won't accept telephone books because the fibers used to make the books' lightweight pages are too short to be reformulated into new paper. The article goes on to say that mixing old phonebooks in with other waste paper can even contaminate the batch, hindering the recyclability of the other paper fibers.
The amount of waste generated by print directories tends to remain constant year-by-year; according to CampaignForRecycling.com, telephone books generated 650,000 tons of paper waste in 2009, which stays in step with the 660,000 tons generated in 2005. Of that, more than 410,000 tons were discarded in the landfills in 2009 as opposed to being recycled. CampaignForRecycling.com goes on to point out that the production and disposal of these phone books generate 3,564,574 tons of carbon dioxide per year, which is the equivalent of approximately 770 thousand extra passenger cars on the road.
In light of these disturbing facts, it's clear that in 2013 and onward, using online digital directories such as YellowPagesGoesGreen.org and free 411 directory assistance (1800-FREE-411) are the ways to go when not only embracing a green lifestyle, but also servicing your needs as a consumer. YellowPagesGoesGreen.org- a website at the forefront of the digital information distribution revolution is just one fighting for the environment and convenience for all.
Yellow Pages Directory Inc., owner of both YellowPagesGoesGreen.org and PaperlessPetition.org, offers an environmentally-friendly Web-based alternative to paper telephone directories while providing a simple and convenient mechanism for customers to opt out from the receipt of printed yellow books. Both web sites have been instrumental in promoting opt-out awareness across the United States over the past several years, and allowing users to reduce their own environmental footprints in the process. Yellow Pages Directory Inc. has also taken steps to reduce its own impact on the environment through the use of the most up-to-date and energy-efficient web-hosting services available.
For more information please visit http://www.YellowPagesGoesGreen.org