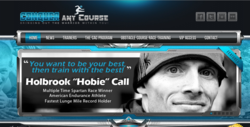 Obstacle racing is a rapidly growing sport and is generating a lot of buzz in the fitness world. My mission is to expand awareness of the sport and our services. I am glad to be partnering with the top two experts in the field, Holbrook "Hobie" Call and
Dallas, TX (PRWEB) August 31, 2012
Christopher Oliver partners with fitness author and celebrity fitness trainer, James Villepigue, to promote the ConquerAnyCourse.com obstacle race training website hosted by top obstacle racing champion, Holbrook "Hobie" Call. As a business partner, Christopher will be responsible for digital strategy and online promotion of the membership website.
The "Conquer Any Course Training Program" is a membership website developed specifically for obstacle-racing athletes and designed to provide an extra edge without adding additional training. Conquer Any Course is a natural training program and trusted resource for the obstacle racing community designed to ensure that members are well prepared for any obstacle race they may face. The program includes obstacle race specific training to prepare and motivate all levels of obstacle racers.
Christopher Oliver, strategist, says, "I am excited about joining the Conquer Any Course team. Obstacle racing is a rapidly growing sport and is generating a lot of buzz in the fitness world. My mission is to expand awareness of the sport and our services. I am glad to be partnering with the top two experts in the field, Holbrook "Hobie" Call and James Villepigue CSCS.".
According to Hobie Call, "I'm too old to take my success for granted, every race is a blessing. I have had the opportunity to help so many people through Conquer Any Course. They tell me that I've helped them achieve peak levels of conditioning and have motivated them in ways they never could have imagined doing on their own. Believe in yourself, follow your heart, and NEVER GIVE UP!!"
Together with James Villepigue and Christopher Oliver, Hobie Call is inspired to help all levels of obstacle racers take on any physical challenge that comes their way!
James Villepigue is the author of the Body Sculpting Bible series and has appeared as a featured trainer on Regis & Kelly Live, The Maury Show and many other TV and radio shows. In addition to his books and TV appearances he has written for national magazines like Fitness, Women's World, Muscle-Mag, Oxygen, Cosmopolitan, Self and Marie Claire. For more information about James Villepigue please visit workoutsinc.com
Holbrook "Hobie" Call is the featured trainer for ConquerAnyCourse.com and an American Endurance Athlete, multiple-time Spartan Race winner and fastest lunge mile record holder. Hobie is as dedicated to those elite athletes he trains as he is to the sport of obstacle racing. For more information about Holbrook "Hobie" Call please visit conqueranycourse.com.
Christopher Oliver is an online entrepreneur, digital strategist and head of the Dallas, TX based interactive firm, the Christopher Oliver Agency. For more information about Christopher Oliver please visit christopheroliver.com.