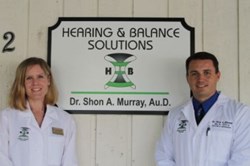 Almost everybody knows someone who has been affected by some degree of hearing loss.
Ocala, FL (PRWEB) June 17, 2013
Hearing & Balance Solutions recently added a blog to the practice website to offer hearing health care advice to community residents on a regular basis.
The newly established blog section will offer weekly articles from the audiologists at Hearing & Balance Solutions covering an extensive range of topics such as proper hearing aid maintenance or detecting hearing loss in children and answers to frequently asked questions such as how to shop for a hearing aid. New content will be published every week and distributed automatically to Hearing & Balance Solutions 's Facebook and Twitter pages for broader distribution.
Hearing & Balance Solutions hopes that all of their former and current patients that wear hearing aids in Ocala FL will visit the website regularly to see what is new on the blog. Currently, the blog only contains a handful of articles, but it will expand rapidly over time. Here are just a few examples of articles already published:

Choosing Between Hearing Aid Replacement or Repair
A Primer on Swimmer's Ear, Its Origins, Symptoms and Treatment Options
What to Expect from Your Hearing Aid Batteries
Should You Stop Wearing Hearing Aids in Loud Environments?
To be responsive to the needs of Ocala residents, Hearing & Balance Solutions encourages anyone with hearing loss or who wears hearing aids in Ocala FL to submit additional category or topic suggestions.
About Dr. Shon Murray, Au.D.
Dr. Shon A. Murray, Owner and Audiologist at Hearing & Balance Solutions, specializes in the treatment and care of hearing and balance disorders. Dr. Murray offers services to the pediatric population all the way to the most mature lifestyles. He received his Doctorate in Audiology at the University of Florida and has had formal training with other specialties including otolaryngology, speech pathology, physical therapy, and a venue of other audiologic areas. He is a member of the American Speech and Hearing Association (ASHA) where he holds the Certificate of Clinical Competence in Audiology (CCC-A).
About Hearing & Balance Solutions:
Dr. Murray has provided hearing aids in Ocala, FL and its surrounding communities for more than 10 years. The company offers a full range of diagnostic and preventative hearing healthcare professional services, including hearing aid screening, evaluations, hearing aids sales and rehabilitative and preventative counseling. Hearing & Balance Solutions is dedicated to keeping abreast of the latest improvements in technological advancements in the hearing industry and are committed to offering the most current options to its patients.
Contact:
Dr. Shon Murray
http://www.hearingbalance.net
Hearing & Balance Solutions
2100 Southeast 17th Street
Ocala, FL 34471
(352) 433-0758