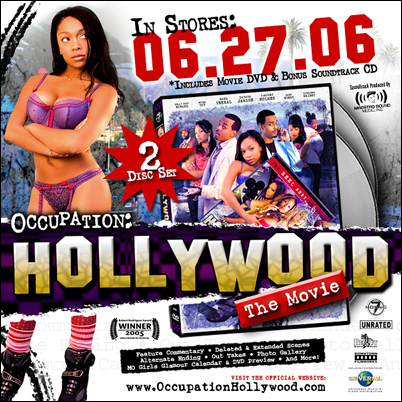 Robert Rodriguez Award of Excellence
Beverly Hills, CA (PRWEB) June 26, 2006
Known to be "MO"ti-talented (multi-talented) as the CEO of the Motimedia franchise companies, Marques "MO" Owens is set to release his first independent feature film effort, "Occupation: Hollywood, The Movie" [Mosaic 7 Pictures] as a Director/Writer/Actor. With rave reviews from film festivals (Hollywood DV Festival, Spaghetti Junction Urban Film Festival) that screened the movie, including one (HDVF) in which it won the "Robert Rodriguez Award of Excellence", this Urban-Comedy/Drama stands to be a wise buy. "Occupation: Hollywood, The Movie" will be available on DVD distributed by Universal Home Entertainment/Bungalo Records/Downtown Filmworks to stores everywhere.
"Occupation: Hollywood, The Movie" is loosely based on Marques' real life 'model promotion company', "MO Girls USA" and features one of their top models (MO Girls), Dayana Jamine as the sexy lead actress. Along side Ms. Dayana, stars Teck "T. Money" Holmes (MTV's Real World [Hawaii], National Lampoon's Van Wilder), Dawn Guest, Myiea Coy, MarQ Terral, Kelly Troy Howard, and a host of others.
The movie's synopsis is as follows:
"An aspiring model named D.J. Somers is trying to make it in Hollywood like so many other young hopefuls in Los Angeles. She works part time in a beauty shop to keep the bills paid because she is not at the point in her career to be a full-time model/actress. D.J. is in pursuit to get the attention of MO, so that she can possibly get signed to his popular model promotion company, MO GIRLS. She meets a guy named Downtown Jay Brown who claims to know MO and offers a helping hand. However, this proves to be somewhat of a difficult task, as MO has ambitions and issues of his own to deal with. MO has been trying for years to befriend and work with Big Showtime, the industry feared television mogul who is infamous for his barbaric and gangster ways. MO becomes the center link of the story as he struggles in his relationship with his wife Lisa due to his lifestyle and the obvious fact that he manages beautiful models as an occupation. Not only does MO have his personal issues to deal with, but he also has to call on his Hollywood colleagues, Craig and Chris, to help him with an even bigger professional opportunity, threat, and responsibility."
This 'must have' 2 disc set will be a collector's item in years to come as the beginning of the directing career for Mr. Owens. Packed with extras and special features including out takes, deleted scenes, photo galleries, previews, alternative ending, and audio commentray by Shannon Rawls (the movie's producer) and the director/writer, Marques Owens himself; It is also accompanied by a bonus soundtrack cd produced by up and coming music producer Vaushaun "Maestro" Brooks (3LW, Dem Franchise Boys, David Banner). This soundtrack includes the "outstanding music" in the movie with songs by Kurupt, B-Rich, Ron Patterson, Cori Hicks, X-Man, and the infectious theme song written and performed by Atlanta based R&B singer, Sky.
For more information on "Occupation: Hollywood, The Movie", please visit the movie's official website at:
Official Movie Site (http://www.OccupationHollywood.com)
Additional statistical information including movie ratings, reviews, credits and more can be found at:
Internet Movie Database (IMDb)
###