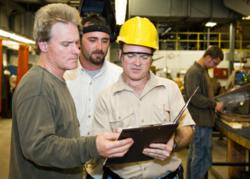 People exploring career options and employees need to be critical thinkers when it comes to occupational safety. Juliet Wehr Jones, GCDF
Vice President, Career Key
Portland, Oregon (PRWEB) April 26, 2013
Evaluating an occupation's hazards plays a critical role in career planning. Career development expert Career Key, http://www.careerkey.org, has just published the first in a special blog series about how occupational health awareness helps people choose a safer career and job.
This week, occupational health and workplace safety has unfortunately become front page news with the tragic Texas fertilizer plant explosion and Alabama fuel barge fire. While these may seem like isolated instances, the U.S. Occupational Safety and Health Administration (OSHA) reports that 13 Americans a day die on the job. In fact, OSHA is honoring these fallen workers on April 28, 2013, the annual U.S. Workers Memorial Day.
To increase workplace safety awareness, the new Career Key Career Blog series, "Career Choices and Occupational Health" shows people:
(1) How to learn about and evaluate occupational hazards, and
(2) Realistic actions to take if working in an unsafe work environment.
"People exploring career options and employees need to be critical thinkers when it comes to occupational safety," says Career Key Blog author Juliet Wehr Jones, Vice President of Career Key. "The reality is that most employers and industries will never be as interested in your safety as you are. Educating yourself about the risks of an occupation and always being prepared to change jobs is critical to protecting yourself."
Whether it's a career in an office, a lab, or on a fishing boat, occupational health hazards like stress and chemical exposure have a major impact on employee health and family. While the occupational hazards for some careers are obvious, others are not – especially those occupations involving new technology. Career Key's primary goals of the blog series are to increase workers' (1) awareness of these issues and (2) independence and mobility in the labor market.
About the Career Key
Since 1997, Career Key has been the #1 Internet source for helping people choose careers and college majors. Advertising and registration-free, it offers a valid career test, information, and advice articles based on the best practices and science in the field. Career Key's author, Dr. Lawrence K. Jones, NCC, is a nationally recognized counseling psychologist and Professor Emeritus at N.C. State University.