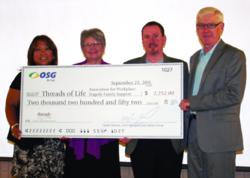 OSG's vision aligns closely with Threads of Life and we're very fortunate to be in a leadership position in the health and safety community which allows us to support such a worthy cause.
London, ON (PRWEB) October 05, 2011
A new corporate partnership has been created with OSG & Threads of Life- a nationally registered charity dedicated to supporting families along their journey of healing who have suffered from a workplace fatality, life-altering illness or occupational disease.
CEO Mark Lisburn and VP of Marketing Frances Rodriguez attended the Threads of Life Family Forum weekend in Barrie September 23rd, 2011. Here OSG officially launched their new partnership with Threads of Life and had an opportunity to meet many of the families they will be supporting through our Joint Health & Safety Committee training programs.
OSG, a leader in the Health & Safety Training and Consulting industry in Canada, will be donating a percentage of revenue from their public Joint Health & Safety Committee Training program to Threads of Life. "Based on fiscal year 2012's initiatives, the support of all of our clients, the community and the OSG team we expect to write a cheque in excess of $10,000 to Threads of Life." Frances Rodriguez, VP of Marketing & Communications at OSG. "OSG is ideally positioned to assist Threads of Life on a national level," said Shirley Hickman, Executive Director, Threads of Life. "Their commitment and expertise in educating workers and employers make them an ideal national partner for Threads of Life. They share our vision and mission to reduce and eliminate workplace tragedies for Canadian families. We trust that their leadership will inspire others to get involved with Threads of Life and to examine their own safety procedures." Threads of Life is a completely volunteer based organization that relies heavily on donations and partnerships like this.
When workplace accidents happen the public hears about the monetary fines a company incurs as a result of the accident but never do we hear of the victims' families and loved ones and how they will forever be affected by that workplace accident.
"I lost my father when I was 24 to a workplace accident. At the time there was nowhere for my mother, younger brothers and I to turn to. We felt like there was no one else going through what we were enduring, we had no one we could talk to for support and guidance. I am so proud to have worked at OSG for 9 years and now to be supporting Threads of Life." says Chris Manchester, long-time OSG employee. Threads of Life helps these families protect future generations of Canadian workers. They provide families with one-on-one peer support assistance and guidance within the health and safety system. It provides families with opportunities to promote public awareness and accountability for workplace health and safety.
Despite best efforts, workplace tragedies happen every day across the country. "Our company is dedicated to making Canadian workplaces safe. Every day we train workers across Canada and we strongly believe that the foundation of a safe workplace begins with Joint Health and Safety Committee training" Mark Lisburn – Chief Executive Officer,Occupational Safety Group ; "Our team at OSG have been participating in the Steps for Life Walk for the years but we wanted to 'Step up' our commitment. OSG's vision aligns closely with Threads of Life and we're very fortunate to be in a leadership position in the health and safety community which allows us to support such a worthy cause. We want to make a difference and thank our clients for being a part of this…our work and our hope at OSG is to help make sure people return home they way they left."
###