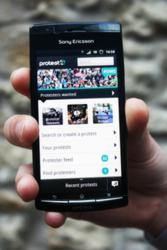 "A real game changer"
San Francisco, CA (PRWEB) November 01, 2011
After observing the ways in which protesters from the Arab Spring, Greek Riots and #OWS, were using social media it became clear that no one tool was providing the functionality they needed. A team of 3 programmers had already been exploring, over the last 12 months how to implement Twitter trending in a local mobile environment. They combined this with a facility for users to create and join walls to post messages and images in the same timeline from mobiles and PC's. Protest4 was born.
The app was designed to empower protesters in the United States to create a protest and then recruit others to join using social media, however tech hungry pro-democracy activists in Pakistan after finding the app via Facebook have become the single largest community of users, using it as a space to discuss and connect.
The "4" Key Features of the app.
1. Find developing protests near you and around the globe
2. Recruit new people to join your protest
3. Communicate with all protesters in a location, publishing comments and images on the same wall in real-time, without broadcasting to your Facebook friends.
4. Connect one-to-one with anybody in your protest before, during and after a protest
The team behind Protest4 have successfully launched the app simultaneously on four major platforms maximising the Iphone and Android functionality in relation to image sharing, group publishing and social media integration with the worldwide interactive audience potential, provided by Facebook and Web access.
The app marks an evolutionary step forward for protesters in social media allowing for the creation, management and sharing of protests around the globe simultaneously by any user.
###