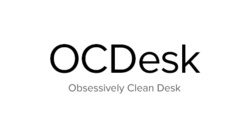 The extra funding provided by our Kickstarter supporters will enable us to pursue the delivery of the iPhone 5 compatible OCDock for iMacs more vigorously and launch follow-up products ahead of the initial plan.
Miami, FL (PRWEB) December 19, 2012
The OCDock™ - a slick iPhone dock designed especially for the iMac, launched on the Kickstarter crowdfunding platform (http://www.kickstarter.com - http://www.kickstarter.com/projects/ocdesk/iphone-dock-for-imac-and-apple-displays-the-ocdock) in late November. With couple of days still left before the Kickstarter campaign ends, the OCDock has already received backing from more than 1200 iMac owners. Collectively, their fans have pledged a cool $90,000 in total to help the company ramp-up their production capacity, nearly double the amount set a as a goal by the creators of OCDock.
While most recently introduced iPhone docks need to first invent the problems they attempt to solve, the OCDock focuses on nailing the most irritating problem that keeps on hindering the everyday productivity - the wire clutter that comes with having a regular docking station on your desk. OCDesk has developed a proprietary paper-thin cable cable runs underneath the display stand, making it look wireless.
The novel iPhone dock was developed by an international design team incorporated as OCDesk, which stands for Obsessively Clean Desk - something that many iMac users are truly obsessed about. Originally designed for iPhone 5 and iMac, the OCDock is also perfectly compatible with Thunderbolt displays as well as variety of portable Apple devices, including previous generation iPhones as well as iPod Touches and iPad Minis.
Mart Jaetma shared his excitement over the Kickstarter funding success, and said "The extra funding provided by our supporter base will enable us to pursue the delivery of OCDock more vigorously and launch the follow-up products ahead of the initial plan. I am extremely grateful for the Kickstarter community and our team for believing and supporting our mission to help eliminate the workspace clutter."
After the Kickstarter campaign is complete, all products will become available for purchase at http://www.ocdesk.com. The company has already been approached by several Apple Premium Resellers and electronics vendors across the world who have taken interest in adding OCDock to their retail portfolio.
OCDesk is a product design company based out of Miami, Florida, with design team residing in Europe. The company specializes in developing high quality accessories for Apple products to help their users maintain cleaner workspace and increased productivity.
# # #
For more information about OCDock, or to schedule an interview, please call OCDesk co-founder Mart Jaetma at (312) 560.4213 or e-mail at mart(at)ocdesk(dot)com